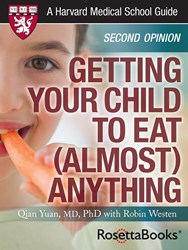 New York, NY January 17, 2012 (PRWEB) January 17, 2013
Getting Your Child to Eat (Almost) Anything, a Harvard Medical School Guide, addresses the concerns that up to 50 percent of parents with toddlers face while table food training. Although many families cook a separate, different meal for their children with discriminating palates, this eBook offers solutions that allow mom and dad to include their child in a healthy, nutritious menu.
Harvard pediatrician and author Qian Yuan, M.D., Ph.D. teams up with writer Robin Westen to report that control, restriction, pressure to eat, and a promise of rewards have a negative effect on a child's food acceptance although they are often used with picky eaters. Tips will address how to increase a child's familiarity with and positive response to foods the parent wants him/her to eat, how to recognize the influence (good or not-so-good) that the parent's eating habits may have on a child, and when to suspect that avoidance may be linked to a food sensitivity or allergy issue.
Harvard Health Publications arranges the publication annually of more than a dozen full-length traditional books. This title is part of its first entry into "digital originals."
"We have a robust social media presence and thought this was the time to serve our constituencies with these short, accessible, informative eBooks," said Dr. Julie Silver, Chief Editor of Books for Harvard Health Publications.
"EBook lines from major institutions are an effective way to reach millions of people worldwide," said Arthur Klebanoff, CEO of leading independent eBook publisher RosettaBooks. "We look forward to developing this line into a leader on health topics."
Qian Yuan, M.D., Ph.D., specializes in Pediatric Gastroenterology and Nutrition and is the Clinical Director of the Food Allergy Center at Massachusetts General Hospital. He is an Assistant Clinical Professor in Pediatrics at Harvard Medical School and a practicing pediatrician for General Pediatrics at the Pediatrics of Newton Wellesley in Newton, Massachusetts.
Robin Westen is a relationship and health writer with more than three hundred articles featured in numerous publications including Family Circle, LHJ, Glamour, MORE, Psychology Today, Parents, American Baby, and American Health.
Harvard Medical School was founded in 1782 and encompasses 18 affiliated hospitals with more than 11,000 faculty physicians. Harvard Health Publications is the media and publishing division of the Harvard Medical School. The goal of its publications is to bring people around the world the most current health information that is authoritative, trustworthy, and accessible.
This title is part of a series of Harvard Medical School Guides that are short, practical original works, organized by Harvard Health Publications and drawing on the resources of Harvard Medical School.
About RosettaBooks: RosettaBooks is the leading independent eBook publisher. RosettaBooks publishes such timeless classics as Brave New World, Slaughterhouse-Five, and the works of Arthur C. Clarke, The 7 Habits of Highly Effective People, and the complete works of Winston Churchill. RosettaBooks has published ten Kindle Singles, including Ray Bradbury's The Playground, nine of which are Best Sellers. RosettaBooks can be found on Facebook. For more information, please visit RosettaBooks.com.
Contact
Navjot Khalsa
Digital Marketing Manager
nkhalsa(at)rosettabooks(dot)com