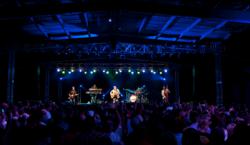 Chattanooga, TN (PRWEB) January 17, 2013
Chattanooga announces a new monthly concert series, "Scenic City Roots, Live from Track 29," starting March 7, 2013. Each show will feature four acts, including one artist from Chattanooga. Shows are open to the public and tickets will be $10 each.
This news comes from Nashville's Heng Dai Media producers Todd Mayo and John Walker. Heng Dai Media also produces the weekly Music City Roots series in Nashville, TN.
"Chattanooga is known best for its natural beauty and is quickly gaining a reputation as a technological hub as well as a home for great music," explains Todd Mayo, Heng Dai Media. "We will look to export the natural beauty and music from in and around Chattanooga and the rest of the state through our wonderful promotional partners."
The March 7 show will feature sets from WMT Blues Band, The SteelDrivers, JOHNNYSWIM and St. Paul and the Broken Bones.
"We are very excited to team up with Heng Dai Media to present 'Scenic City Roots, Live from Track 29,' said Monica Kinsey from Track 29. "It's a wonderful opportunity for Track 29, but also to showcase Chattanooga and its talented local musicians."
The two-hour show will be streamed in high definition online each month and will air on PBS stations throughout the state of Tennessee. "As the Tennessee Valley's PBS station, we are excited to present this wonderful program showcasing the rich musical talent of our area," said Paul Grove, President and CEO of WTCI. "It is a perfect fit with our mission to educate, engage, inspire and entertain."
The Chattanooga Times Free Press has partnered with Scenic City Roots as the exclusive print sponsor. Scenic City Roots plans to grow with the community of Chattanooga by adding additional partners to align with this exciting new brand of entertainment.
Tennessee Valley Federal Credit Union has signed on early as a presenting sponsor. "As an advocate of our vibrant arts community, Tennessee Valley Federal Credit Union is thrilled to bring this exciting new concert series to Chattanooga," added Jimmy Johnston, Tennessee Valley Federal Credit Union Marketing Manager. "At only $10 a show, it's a fantastic way to enjoy some great music, at a great local venue."
Scenic City Rotts is not Heng Dai's first musical endeavor in Chattanooga. The team recently worked with RiverRocks event organizers to help produce the 2012 finale event, "Gig City Roots," featuring Jason D. Williams, Chuck Mead and more.
Although Scenic City and Music City are stand-alone shows, they share the strong common thread of reigniting music with purpose, while utilizing the old time radio format that cultivated some of Tennessee's most legendary music careers.
Visit http://www.sceniccityroots.com for more information.