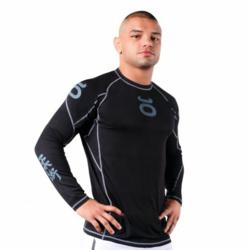 Compression gear is second to none in terms of keeping your body temperature stable and comfortable
Peterborough, (PRWEB UK) 24 January 2013
The months leading out of 2012 were uncharacteristically wet, with the year eventually finished only 6.6 millimetres of rainfall short of being the wettest year in UK history. Continuing the theme of extreme weather conditions, January accompanied mass levels of snowfall across the UK, along with daytime temperatures falling as low as minus five degrees, dropping again to minus nine in the evening.
Major traffic jams demonstrated how cars were driven from their usual routine by hostile conditions, and the same happened to cyclists and joggers. Even in areas where ice had only a minor presence, incredibly cold temperatures have left all but the hardiest of athletes able to exercise outside for lengthy periods.
Compression clothing has been noted for the ability to not only reduce post-workout recovery times, but also are highly effective at regulating temperature. In response to the extreme cold temperatures affecting the public, Muscle Finesse are expanding their range of compression gear, now including the Jaco Rashguard line, helping regular trainers keep their routine.
A representative from Muscle Finesse took the time to expand on their support for compression gear, along with their expanded product range. "Of course, we encourage our customers to invest in compression gear in all seasons. Even if it has a minimal impact on direct performance, the clothing keeps muscles from swelling and improves circulation substantially. It cuts down on recovery time considerably. Yet compression gear is also second to none in terms of keeping your body temperature stable and comfortable. Whether customers are exercising in biting winds or sweltering summers, compression clothing has the potential to help enormously."
The tightness of compression gear is responsible for helping to maintain body temperature. Much like a wetsuit keeps cold water from touching the skin, compression clothing serves the same purpose for air. Even if the athlete suffers through snow and wind, no cold air and liquid pockets will form between the skin and outfit. In combination with exercise this allows individuals to keep their body temperature at warm levels in even the coldest weather.
The benefits carry over to regulating heat, as well. By compressing the skin the clothing increases the production and evaporation of sweat, speeding up the natural process of cooling body temperature. Consumers must be careful to drink plenty of fluids during and after exercise however, to counteract the loss of liquid.
Muscle Finesse are a Peterborough-based supplier of fitness supplements, weight-loss materials and exercise equipment and clothing. They deal in both retail and wholesale trade across the UK, and are now one of the UK's leading supplement suppliers. Through expanding their range of fitness gear they hope to help their customers both nutritionally and physically.