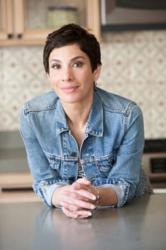 She is an exceptional leader in the field of allergy-friendly and gluten-free cooking.
(PRWEB) January 17, 2013
Allergic Living magazine is honored to announce that award-winning cookbook author Cybele Pascal has joined its team as Food Editor.
Pascal, who describes her cooking without top allergens and gluten as "both a necessity and a passion," has recently released her new Allergy-Free and Easy Cooking book. Her two previous books, The Allergen-Free Baker's Handbook and The Whole Foods Allergy Cookbook, are bestsellers.
"I am so excited that Cybele will be creating recipes for Allergic Living's readers," says Editor Gwen Smith. "She is an exceptional leader in the growing field of allergy-friendly and gluten-free cooking."
Pascal's recipes have drawn high praise from the likes of Martha Stewart and she has appeared on The Martha Stewart Show, the Today Show, Good Morning America and the Food Network. She lives in Los Angeles with her food-allergic family – Pascal, her two sons, her husband and even one of her dogs all have food allergies.
In addition to Pascal's talents, Allergic Living further strengthens its food department in 2013 with the addition of Elizabeth Gordon as Associate Food Editor. Gordon is another highly regarded cookbook author, whose latest title is The Complete Allergy-Free Comfort Foods Cookbook. Both writers create superb recipes that are made entirely without gluten and the Top 8 big allergens: dairy, eggs, peanuts, nuts, wheat, soy, shellfish and fish.
Meantime, Senior Editor Alisa Fleming, author of the bestselling Go Dairy Free, continues to create delicious and inventive recipes for her "No Dairy, No Gluten" recipe column. With this exceptional food team in place, 2013 stands to be a banner year for the magazine.
"If you're caught in a cooking rut because of food allergies or the gluten-free diet, just try Allergic Living," says Smith. "Cybele and the team will inspire you to get in the kitchen – you'll start a whole new love affair with food."
Since its launch across the United States in the spring of 2011, Allergic Living magazine has grown rapidly and gained a reputation for editorial excellence. Smith is a former senior editor of national magazines, many of Allergic Living's writers are respected health journalists, and its expert columnists include leading allergists and dietitians. Other expert voices include the National Foundation for Celiac Awareness, FARE (Food Allergy Research and Education) and the Asthma and Allergy Foundation of America.
For more about Allergic Living magazine, contact: editor(at)allergicliving(dot)com or call 1-888-771-7747.
View a sample edition of the magazine here.