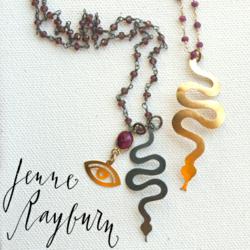 Snakes are the deepest thinkers of the 12 Chinese Zodiacs.
Boston, MA (PRWEB) January 20, 2013
Jenne Rayburn Handcrafted Jewelry and Wearable Art is showcasing snake jewelry designs. The snake is the symbol of the 2013 Chinese New Year, which is the 10th of February. The pieces, made of polished sterling silver, lustrous 18-karat matte gold plated brass, antiqued sterling silver plated brass, and raw brass, capture the organized, intelligent, intuitive, and elegant snake in a contemporary, silhouetted form.
According to Jenne Rayburn, "The Chinese believe the animal ruling one's birth year has a profound influence on personality, and destiny. The saying is: 'This animal hides in your heart.'" Each piece is crafted from thin metal then hammered for texture and strength. This beautiful jewelry is easy to wear, lightweight and durable.
According to Chinese astrology snakes are the deepest thinkers of the 12 zodiacs. Legend has it that inception of the Chinese zodiac signs began when Buddha called on all the animals to bid him farewell before his departure from the Earth. However, only twelve animals arrived at his summoning, so those were given a place of honor in a year being named after each. Those born in 1917, 1929, 1941, 1953, 1965, 1977, 1989, 2001, and now 2013, were born under the sign of the snake. Snake people are born charming and popular. Snakes are spotlight magnets, and they will not be ignored.
We are leaving the year 2012, which was the year of the flamboyant dragon. The dragon is a legendary animal and the symbol of the emperor in China. Together the lucky dragon and the wise snake bring good fortune. The Chinese New Year always begins on the second new moon after winter solstice. Contact http://www.jennerayburn.com for jewelry representing all of the zodiac symbols.
Visit Jenne Rayburn's collections
http://www.jennerayburn.com
Visit Jenne Rayburn on Facebook
http://www.facebook.com/Jenne.Rayburn
About:
Jenne Rayburn is a Boston-based jewelry/textile artist who also studied interior design and architecture, and her work explores the convergence of architecture, design, technique and identity. Jenne is known for her designs combining vintage textiles, findings and components, with contemporary textile design. A graduate of the University of Washington where she studied metalsmithing and fiber arts, and of the University of Massachusetts, Amherst with a MS in Design, Jenne has been designing jewelry and accessories for over 20 years. Perpetual curiosity and a passion for experimentation resulted in her first jewelry collection made from etched copper and brilliantly colored enamel. Since then, Jenne has created unique collections of jewelry and fashion accessories that combine careful workmanship with distinctive materials and designs. It is her hope that the wearers of her pieces will find joy in a delightful artistic statement, and also something that enhances their individuality and confidence. Her work is carried in local galleries and online. Please visit http://www.jennerayburn.com for Jenne Rayburn's online flagship store. For wholesale information, please visit jennerayburn.com/wholesale.com