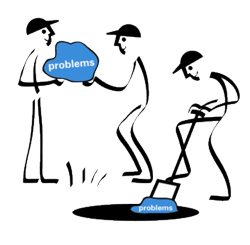 These lean management workshops will help managers and executives develop skills in coaching, leadership, problem solving, and innovating needed to transition to a continuous improvement culture based on daily problem solving.
Cambridge, MA (PRWEB) January 18, 2013
The nonprofit Lean Enterprise Institute (LEI) today announced a winter and spring schedule of workshops that train managers working in lean business environments on how to create and maintain cultures of continuous improvement.
Designed for continuous improvement professionals, line managers, function heads, and change agents in manufacturing and service businesses, the workshops will run at LEI, 215 First St., Cambridge, MA, in February, March, and April 2013.
The sessions will help managers and executives develop skills in coaching, leadership, problem solving, and innovating needed to transition to a continuous improvement culture based on daily problem solving, which is a critical part of creating a corporate culture based on lean management. The schedule is:
Managing to Learn: The Use of the A3 Management Process
February 12-13, 2013
This two-day course, built on lessons in the award-winning book Managing to Learn, reveals how to use A3 reports to create a deep problem-solving culture based on the scientific method of plan-do-check-act (PDCA). An A3 report captures the PDCA process on one sheet of paper. Topics include:

What are the basic types and formats of different A3 stories
How to use A3s to create alignment among the stakeholders in a problem
How the versatile A3 report supports change management, human development, and knowledge sharing
How to develop A3 writing skills
How to respond as a mentor to the A3 reports of others
Learn more about how A3s build a problem-solving culture.
Leading in a Continuous Improvement Culture: Engaging and Coaching Problem-Solving Thinkers
February 14-15, 2013
This workshop is designed to help leaders who must acquire the new coaching and mentoring skills that they need to develop managers and employees for a lean management environment based on problem solving. The session covers:

Skills for engaging and developing employees as problem solvers
Techniques for helping employees with problem solving without taking away their responsibilities
Ways to lead discussions of problems that promote development of employees' job-handling capabilities
How to ask questions that stimulate a person's grasp of a problem and possible causes
Techniques to help others sort through the "noise" in a problem and focus on the real challenge they need to address
Learn more about how this workshop builds coaching skills.
Transformational Leadership: A Program for Senior Leaders
March 6-8, 2013
This course gives leaders the twin benefits of learning and actually practicing the new leadership behaviors needed to support a lean transformation. A team of experienced LEI faculty members combine an experiential methodology, a realistic business simulation, and a series of rapid experiments that will help attendees:

Assess the gaps in current leadership and organizational systems that must be addressed to foster a culture of problem-solving
Develop an action plan that addresses the gaps
Identify core behaviors and practices that characterize lean leaders
Clarify your role as a leadership change agent
Develop experiments to create a new problem-solving culture at work
Learn more about how this workshop helps build lean leadership skills.
NEW! Improvement Kata / Coaching Kata
April 3-5, 2013
A kata is a pattern that is practiced and practiced in order to learn a new skill and mindset until it becomes second nature, like riding a bike. Thus, the improvement kata is a routine for daily systematic improvement. It's a practice pattern that helps managers and team members develop the ability to take business performance from the current level to a higher one. This ability is a key to creating a company culture where people, coached by their managers, make daily improvements based on the scientific method of PDCA. The workshop covers:

How kata patterns of thought and action help managers and teams improve systematically and scientifically every day
How kata patterns provide a common way for everyone to navigate uncertainty and develop solutions
How "coaching cycles" migrate managers toward a role of coaching and mentoring
How to apply coaching routines that build people's improvement skills and a mindset of adaptation and innovation
Learn more about how this workshop helps managers and team members build skills for daily improvement.
What is Lean?
The terms lean manufacturing, lean production, or lean management refer to a complete business system for organizing and managing product development, operations, suppliers, customer relations, and the overall enterprise. It requires less capital, material, space, time, or human effort to produce products and services with fewer defects to precise customer desires, compared with traditional modern management.
Toyota pioneered lean management as a complete business system after World War II. During the late 1980s, a research team headed by James Womack at MIT's International Motor Vehicle Program coined the term "lean" to describe Toyota's system.
Lean Community Resources
LEI offers a weekly newsletter with lean management news and resources such as case studies, webinars, interviews with executives on lean leadership, and an archive of essays by authors and lean management thought leaders.
Lean Enterprise Institute
Lean Enterprise Institute, Inc., was founded in 1997 by management expert James P. Womack, PhD, as a nonprofit research, education, publishing, and conference company with a mission to advance lean thinking around the world. We teach courses, hold management seminars, write and publish books and workbooks, and organize public and private conferences. We use the surplus revenues from these activities to conduct research projects and support other lean initiatives such as the Lean Education Academic Network, the Lean Global Network and the Healthcare Value Network. Visit LEI at for more information.