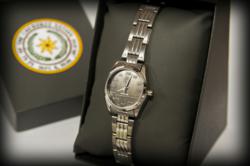 Tulsa, Okla. (PRWEB) January 18, 2013
The Cherokee Nation Gift Shop is introducing a ladies Cherokee syllabary watch to its product line just in time for Valentine's Day. The new watch uses the written Cherokee language as its face and is a shining expression of the tribe's culture.
"This one of a kind watch is another way we're working to promote Cherokee culture to a modern audience," said Cherokee Nation Principal Chief Bill John Baker. "Continuing to use the Cherokee syllabary is an important part of preserving our history and language."
The watch has a silver body and band, with a silver dial featuring the Cherokee Nation logo and the seven-pointed star underneath the watch hands. Around the dial are syllabary markers in the written Cherokee language representing the numbers. The watch bezel, which protects the surface of the watch face by securing the crystal, is stainless steel.
It sells for $85 and is available at select locations, including Cherokee Gift Shop Tahlequah, Cherokee Art Gallery Hard Rock and online at CherokeeGiftShop.com.
Along with the new watch, Cherokee Nation continues to increase Cherokee language-based retail items. This winter, Cherokee Nation introduced hooded sweatshirts featuring the University of Oklahoma and Oklahoma State University logos in the Cherokee language.
The Cherokee Nation Gift Shop features a wide selection of Cherokee and Native American art including authentic baskets, sculptures, paintings, jewelry and more. Cherokee merchandise includes distinctive Cherokee-branded apparel such as Cherokee Nation "Osiyo" T-shirts; books along with historical and genealogical literature; authentic jewelry; cultural CDs and other materials; and Cherokee gifts like distinctive dolls, pins and Pendleton blankets. Much of the merchandise is available on the website.
For information on the Cherokee Nation Gift Shop, please call (877) 779-6977 or visit CherokeeGiftShop.com.
-30-