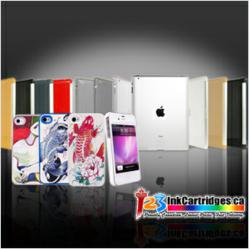 Montreal, QC (PRWEB) January 18, 2013
One of the most recent announcements by the Canadian based 123inkcartridges.ca is the expansion of their product line. These expansions are an attempt to keep up with the needs of their growing customer base. Among the latest products to be added is the iPad Mini 360 Degree Rotating Case. These iPad cases are constructed of the highest quality and the price is very affordable. It's a small price to pay to protect the latest gadget from becoming damaged. The cases are available in a wide variety of colors so that there is certain to be one to meet everyone's individual style.
The iPad Mini 360 Degree Rotating case is a fabric case which has a rotating hinge so that the screen can be easily seen from both the horizontal and vertical directions. It also has a stand so that it is easy to view or type. High quality products such as the iPad Mini cases are provided to consumers through 123inkcartridges.ca since they are aware of the need to protect these sensitive instruments. The specialized case works to protect the appearance of the iPad Mini whether it is in use, or not.
For iPad Mini users, the full color selection of the hinged cases can be viewed on the company site at http://www.123inkcartridges.ca/catalog/search?q=LC-360-Cimini. The covers have been offered on sale now for some time as the Canadian based company desires to see consumers afford high quality products without having to pay too much. The company is customer focused in their products and prices.
About 123inkcartridges.ca
123inkcartridges.ca is a Canadian based company which started out simply offering printer ink and toner cartridges to consumers at reasonable prices. They quickly became the number one online supplier of printer related products and soon after began to also offer computer related products at affordable prices. They presently carry a full line of computer and printer related accessories. Their inventory is housed in large facilities located in Canada and they ship to consumers across North America. Their site http://www.123inkcartridges.ca offers viewers their full line of high quality products which are reasonable priced.