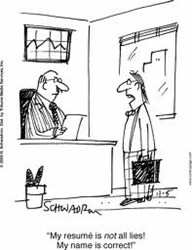 This format really works well to teach people how to improve their own resumes.
Gunter, TX (PRWEB) January 21, 2013
Job seekers—or anyone looking to update their resume—will get a chance to learn from an expert how to write a resume that will get attention from potential employers and help them stand out in the job search in a live webinar on January 22. There is no fee required to participate in the Resume Review Webinar. Only a first name and email is necessary to register. See details here: http://careerconfidential.com/improve-resume-free-resume-writing-live-webinar/
On January 22, 2013 at 1PM EST, Career Coach Peggy McKee will present an online Live Resume Writing Webinar, using examples of actual job seeker resumes to show what makes a resume go from good to great. She will show webinar attendees how to change a mediocre resume to a job-interview-getting resume.
Webinar participants have the option of submitting their own resumes for review during the presentation. McKee will use those resumes illustrate how to improve various parts of a resume, such as the objective statement, employment history, structure, format, and more.
According to McKee, "This format really works well to teach people how to improve their own resumes. Nothing teaches like an example, and everyone benefits from seeing the thought process you have to bring to this to make it work."
Peggy McKee is the CEO of Career Confidential, a comprehensive online job search and interview resource offering tools, tips, and advice for the job seeker.
McKee teaches job seekers that the resume must be a marketing document for the person in a job search. The resume's only function is to get interviews. If it doesn't get interviews, it needs to be rewritten.
"Your resume can look fantastic and even be professionally written by a resume writer, but if it doesn't get interviews, it doesn't matter," says McKee. "The key to writing a resume that gets interviews is to turn it into a marketing document. Anyone can do this with the right training.
McKee's goal is to let job seekers watch her talk about a variety of resumes and get familiar with the thought process involved in creating a solid resume. She believes that just by watching that process, job seekers can gain tremendous resume-writing skill. Along the way, she will introduce job seekers to vital principles of resume writing they can apply to their own documents.
The webinar will be held online January 22, 2013 from 1:00-2:30 PM, Eastern Standard Time. After registration, participants will receive confirmation emails with instructions on how to join the webinar.
Those interested in attending this webinar can find out more details as well as how to register, here: http://careerconfidential.com/improve-resume-free-resume-writing-live-webinar/
###
Career Confidential is a rapidly growing job search training company based in Texas that specializes in providing job seekers with powerful and customizable tools and techniques to get the jobs they want fast.
Since nationally-recognized recruiting and job search experts Peggy McKee (CEO) and Carl Chapman (CTO) founded Career Confidential in 2009, Career Confidential has grown from one product, the 30/60/90-Day Business Plan, to more than 30 products to guide candidates through every step of the job search.
Career Confidential helps job seekers worldwide. If you would like more information about this topic, or to schedule a coaching session, please call Peggy McKee toll-free at 1-800-691-2562 or e-mail Peggy at Peggy (at) CareerConfidential (dot) com.