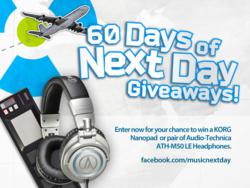 Atlanta, GA (PRWEB) January 18, 2013
Online retailer Music Next Day have launched a full service retail site and they want you to know about it. That's why they are giving away 30 Korg NanoPads and 33 Audio Technica ATH-M50 LE headphones over 60 days of drawings. To be eligible to win, just go to their facebook page, "like" them and sign up for the prize drawings. If you've already "liked" Music Next Day on facebook, visit the above link and be sure to submit your contact info so you can also be eligible for the prize drawings. More details and the contest rules and regulations can be found here.
MusicNextDay.com offers free next day shipping for their products to any customers living within the 48 contiguous United States via UPS Next Day Air. Customers living outside the contiguous 48 states still receive Priority International Shipping. More details on their shipping policy are available at http://www.musicnextday.com/shipping/.