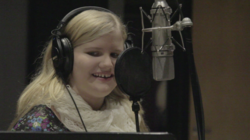 Over the years Globe has supported Make-W-Wish® Minnesota with voluteering, financial support and numerous service learning projects.
Minneapolis, Minn. (PRWEB) January 17, 2013
Globe University has teamed up with Make-a-Wish® Minnesota to help Wish child Sabrina achieve her dream of writing and creating her own songs. Through its affiliate school Institute of Production and Recording (IPR), Globe donated the talents of engineer Kevin Bowe, Grammy award-winning producer Steve Hodge and full access to IPR studios to record Sabrina's songs.
Make-A-Wish® Minnesota contacted Globe and IPR to help 11-year-old Sabrina realize her wish. The result is a passionate CD of sweet songs written from Sabrina's heart. Sabrina recorded her CD over the course of several sessions at IPR studios in downtown Minneapolis. She will perform music from her new CD in front of 100 friends and family at a CD release event January 20.
Sabrina tells the story of how her wish came true in this short video, also made possible through an in-kind donation from Globe University. Globe has a long-standing relationship with Make-A-Wish® Minnesota that has included volunteering, financial support and numerous service learning projects.
ABOUT GLOBE UNIVERSITY AND THE INSTITUTE OF PRODUCTION AND RECORDING
Globe University and the Institute of Production and Recording (IPR) are part of a premier, family-owned system of career colleges, universities and training centers based in Woodbury, Minn. These specialty-skills colleges prepare professionals for successful careers in a wide range of high-demand fields. Through its philosophy, We Care, the organization integrates hands-on education and applied-learning experiences that expose students to their communities and real-world situations. Programs offer undergraduate, diploma and graduate degrees in a wide range of career fields, including business and accounting, health sciences, legal sciences, technology, creative media and applied arts. More than 30 programs are available online. All academic programs are accredited by the nationally recognized Accrediting Council for Independent Colleges and Schools (ACICS). For more information, visit http://www.globeuniversity.edu.
ABOUT MAKE-A-WISH® MINNESOTA
Founded in 1982, Make-A-Wish® Minnesota has granted more than 3,800 wishes to children across the state. Make-A-Wish grants the wishes of children with life-threatening medical conditions to enrich the human experience with hope, strength and joy. Make-A-Wish is the largest wish-granting charity in the world, with 62 chapters in the United States and its territories. For more information about Make-A-Wish® Minnesota, visit http://www.mn.wish.org or call (612) 767-WISH (9474).
# # #