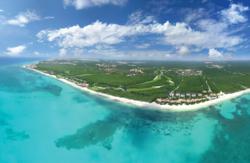 This honor is a testament to the authenticity of the Mayakoba experience and the high caliber of our hotels.
Riviera Maya, MX (PRWEB) January 17, 2013
Mayakoba Resort, an eco-luxury development comprised of Banyan Tree, Fairmont and Rosewood Hotels, was honored by Conde Nast Traveler with all three properties included on the annual Gold List, announced in the January 2013 issue. Gold List recipients are selected by the magazine's readers, considered the most highly selective, well-traveled opinion makers in the world, and rank the best hotels, resorts and cruise lines worldwide.
"We are greatly honored and would like to thank our collective hotel guests and the discerning readers of Condé Nast Traveler for this recognition," said Agustin Sarasola, General Manager of OHL Desarrollos, the developer of Mayakoba. "It is a testament to the authenticity of the Mayakoba experience and the high caliber of our hotels, which offer guests unmatched service, luxurious accommodations, unparalleled amenities and exquisite cuisine."
Located in the heart of Mexico's Riviera Maya, Mayakoba sits on 593 acres of ecologically diverse land dotted with lagoons, mangrove forests, cenotes, canals, and white sand beaches. Six miles of crystal clear waterways flow throughout the resort and lead to the turquoise waters of the Caribbean Sea. An eco-conscious development, Mayakoba has been recognized by both the United Nations World Tourism Organization and Rainforest Alliance as a world leader in sustainable tourism. The more than 148 acres of protected mangrove forests along the coastline provide an important habitat for more than 200 species of tropical flora and fauna, which guests can experience via private boat tour with a resort biologist or on the new Mayakoba Connection ferry that connects all three hotels.
In its 19th year, Condé Nast Traveler's annual Gold List is based on data collected from the magazine's annual Readers' Choice Survey, one of the highest distinctions in the travel industry. Dedicated readers are queried on top destinations, hotels, resorts, cruise lines and more. This year nearly 50,000 individuals participated in the Readers' Choice voting – almost doubling last year's number of 26,000 participants – and selected a total of 1,306 winners, prompting the magazine to break the results down by region. Rankings are based on the quality of rooms, service, food and dining, location and overall design.
The 2013 Gold List is featured in Condé Nast Traveler's January issue and is also accessible online.
About MAYAKOBA
Located in the Riviera Maya just 15 minutes from Playa del Carmen, Mayakoba is an eco-friendly resort development on the shores of the Caribbean in Mexico. Surrounded by natural beauty in its lagoons, pools and sugar sand beaches, Mayakoba is home to three luxury hotels – Fairmont Mayakoba, Rosewood Mayakoba and Banyan Tree Mayakoba. The resort also offers a spectacular 18-hole golf course designed by renowned architect and PGA legend Greg Norman. The signature course is home to the Mayakoba Golf Classic – the only PGA TOUR event in Mexico. Six miles of freshwater lagoons that lead to a white sand beach with turquoise waters on the Caribbean Sea connect all of the hotels. Guests are transported in boats via canals made exclusively for the resort, which have led to Mayakoba being called "the Venice of the Yucatan." Mayakoba is an eco-conscious development and has implemented significant practices to encourage sustainability. For more information, please visit http://www.mayakoba.com