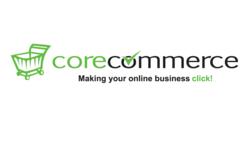 "Our Development Team has worked hard on this project and I'm proud to present the end result to our customers." -Matt DeLong, CEO
Franklin, Tennessee (PRWEB) January 17, 2013
CoreCommerce, the leading e-commerce software provider, announced the latest software update to the public. This release includes a more intuitive process to set up shipping options, one of the final pieces to complete the Setup Wizard redesign from the November 2012 release. The new shipping Setup Wizard design simplifies adding real time carriers, flat rates, shipping groups and other advanced options for users.
A highlight of the Setup Wizard's shipping feature is the capability to use both real-time rates and flat rates within one shipping group, a popular feature request among CoreCommerce users. Additionally, real-time and flat rates are now displayed together, making it easier for consumers to choose their preferred shipping option at the time of checkout. Drag and drop features throughout and progressive disclosure creates ease of use for beginners and advanced users alike.
The CoreCommerce Team has worked diligently to complete the shipping feature, which was the largest part of the Setup Wizard overhaul. "We are excited to release the shipping component of our new Setup Wizard," said Matt DeLong, CEO of CoreCommerce. "Customers will appreciate the user friendly, intuitive design that seamlessly guides each user through the shipping set up process. Our Development Team has worked hard on this project and I'm proud to present the end result to our customers."
About CoreCommerce: CoreCommerce is the leading e-commerce shopping cart solution for entrepreneurs and growing businesses. Founded in 2001, we provide easy to use, feature-rich solutions to create an engaging online store. CoreCommerce is integrated with over 100 partners that offer a variety of payment gateways, shipping and fulfillment, e-mail marketing and social media services to make your business successful. Respected for our Legendary Support™, we have a knowledgeable, friendly customer service team that is devoted to helping you craft a dynamic online store.
Winner of the 2012 American Business Awards' Gold Stevie® for Programming and Design, and two Silver Stevie® Awards for both Computer Software and E-commerce website categories. For more information about CoreCommerce, please visit corecommerce.com.