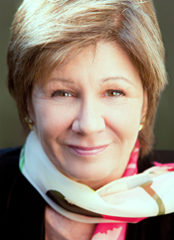 Highland Park, NJ (PRWEB) January 17, 2013
Dr. Margaret Nichols, clinical psychologist, is the subject matter expert for the season-opening episode - "Shades of Kink" - of "Our America with Lisa Ling". The show airs on the Oprah Winfrey Network (OWN) January 22 at 10pm ET/PT. Concurrently with the airing, three webisodes will appear on the OWN website, http://www.oprah.com/own. Dr. Nichols, author and AASECT-certified sex therapist, is the founder and Executive Director of The Institute for Personal Growth (IPG), the premier outpatient mental health organization in NJ/NYC, with four offices in New Jersey and New York City.
During the interview with Ms. Ling, Dr. Nichols discusses the ever-growing world of "kink" - bondage and discipline, dominance and submission, and sado-masochism. A clinician with more than 25 years experience and a certified sex therapist, Dr. Nichols shares her knowledge of the kink community as it exists in the real world, debunking myths and explaining the attraction to kink that many "ordinary" Americans have. "Kinksters" are interviewed and footage is shown of some kink activities. Ms. Ling asks some very pointed questions of Dr. Nichols, who shares her perspective of the activities and the community as a whole.
Dr. Nichols speaks about the traditional psychiatric perspective of kink as a pathology, and the increasing number of experts in the field who now see kink as simply an alternative sexuality, pointing out the data that shows that 15-20% of the population participates in kink at least occasionally. She also explains that, contrary to the stereotype, kink is entirely consensual, with no participant being powerless, and that spanking and bondage are the most popular kink activities. Other stereotypes that Dr. Nichols discredits: violence is no more likely in the kink community as any other, perhaps being less frequent since the kink community polices itself so extensively, and there are no more incidents of mental illness and no higher incidence of child abuse, including sexual, in the kink community than in the population as a whole. This is an enlightening episode that will be sure to stir up discussion.
About IPG:
IPG Counseling - the Institute for Personal Growth - has led New Jersey in providing expert outpatient psychotherapy and counseling since 1983, and now also offers services in New York City. Dr. Margaret Nichols is the founder, President and Executive Director of IPG.
IPG treats individuals, couples, families and children for problems ranging from depression and anxiety to addictions, relationship problems, sexual problems and life crises. Our client population is diverse in background and types of problems being treated. We have a group private practice of more than three dozen therapists and Certified Sex Therapists working in three locations in New Jersey as well as in New York City. We have a sub-specialty in sex therapy and we are internationally known for our work with the L/G/B/T/Q communities and other lifestyle and sexual minorities. In addition, we also provide Special Education testing and evaluation services for children with disabilities.
Visit online at http://www.ipgcounseling.com and on Facebook at https://www.facebook.com/InstituteforPersonalGrowth.