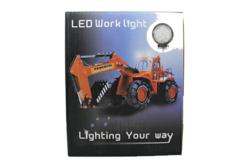 Brooklyn, NY (PRWEB) January 18, 2013
Emergency City, your one stop shop for all emergency vehicle lighting announced that through the end of the week all Police Lightz brand work lights will be on sale through January 18,2013. Available in two different shapes and wattages, the strongly built frame will serve the area lighting needs of a wide range of emergency and non-emergency professionals.
The work lights are packed with either six or eight powerful 3 watt LEDs encased in an aluminum housing for efficient heat dissipation and are durable in the most demanding work environments including construction and off road equipment application.
"The work lights are sleek, yet its powerful LEDs are designed for the user to be able to install and use with ease in a wide variety of circumstances. During this event between Emergency City and Police Lightz, we want the professionals to get their hands on a product that is designed for them, small in size, yet powerful enough to light up a large area," said Ariel Cohen, Director of Marketing at Emergency City.
Each light comes in either a square or round body style with the option for total power of either 18 or 24 watts per unit. In addition, each individual unit is available to function as a spot light or a floodlight. With all of the different options, there are a total of eight different work lights in the series. The 18-watt work light offers a total output of 1500 lumen and the 24-watt work light offers a total output of 2000 lumen. For quick installation each light also comes with vehicle mounting brackets.
The 18-watt work lights in square or round are available for $39.99 and the 24-watt work light in square or round are available for $49.99. All work lights can be purchased online at Emergency City.
Whacker Technologies, Inc., is headquartered in Brooklyn, NY and is the parent company of Whacker Technologies, Police Lightz, and Emergency City. Whacker Technologies manufactures and sells interior and exterior police lighting, sirens and accessories for vehicles of many industries. For more information please visit http://www.whackerusa.com.