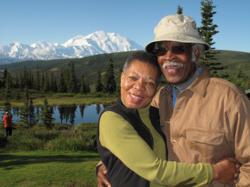 I didn't expect to find my history in these national parks.
Washington, DC (PRWEB) January 21, 2013
Experiencing Black History Month this February is as easy as a walk in the park… a national park, that is, says Audrey Peterman, author of "Our True Nature: Finding a Zest for Life in the National Park System," a recently published guidebook to many of America's national parks from the perspective of a Black woman.
Ms. Peterman describes the National Park System as "a collection of precious jewels spread out across our country. They are the places where history actually happened" and relates that - before visiting - she knew Valley Forge National Historic Park was where General George Washington made his heroic winter stand, "but until I visited, I had no idea that there were Americans of African, Native and Hispanic descent suffering alongside him in the Continental Army. Nor did I know that women were involved. That single piece of information has probably been more liberating to me than almost anything else in my life."
Discovering the circumstances and people who shaped the African-American experience was one of the thoughts that inspired Black historian Carter G. Woodson to establish "Negro American History Week" in 1926. It has since evolved into Black History Month, commemorated at many national park locations including the Carter G. Woodson Home National Historic Site in Washington, DC.
Ms. Peterman says the parks include the armory where abolitionist John Brown and his followers made their desperate bid to end slavery at Harper's Ferry National Historical Park in Va.; the birthplace of Dr. Martin Luther King, Jr., the bed he slept in and the toys he played with as a child at the Martin Luther King, Jr. National Historic Site in Atlanta, Ga.; groves of 2,000 year old giant sequoia trees that "Buffalo Soldiers" (Black cavalry soldiers) protected in California's Sierra Nevada mountains at Sequoia, Kings Canyon and Yosemite National Parks; and within the "tabby cabins" built by enslaved Americans at Kingsley Plantation/Timucuan Ecological and Historic Preserve outside Jacksonville, Fla.
"When I began the journey of discovery that resulted in writing Our True Nature, I didn't expect to find my history in these national parks," says Ms. Peterman. "But that's what I found. Our national parks are our collective story as a people. They preserve America's most important natural, historic and cultural places, and communicate the story that every racial and ethnic group played a part in making this country what it is today."
Our True Nature is the first travel guide to the National Park System written from an African-American perspective. Ms. Peterman has traveled widely through the parks. Our True Nature is her second book about the national park experience, and she serves as a member of the board of directors of the National Parks Promotion Council.
"I've included my observations about visiting iconic national parks such as Grand Canyon, Yellowstone and Yosemite National Parks, and also described walking through the ruins of Fort Sumter National Monument in South Carolina where the first shots of the Civil War rang out, and the laboratory at Tuskegee Institute National Historic Site in Tuskegee, Ala., where Dr. George Washington Carver made his scientific breakthroughs. I share where the parks are, how to get there, where to stay, what to do, and how affordable and inspiring it is to visit them," she says.
"I truly believe the national parks have the potential to bring us together as a nation," she concludes, "They show that every racial group has contributed to our country getting to where it is today, and they inspire each of us to live up to the highest aspirations of our ancestors."
Our True Nature is available at http://www.legacyontheland.com and http://www.amazon.com.