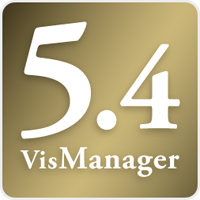 VisManager 5.4 continues Renovo Software's legacy of providing the most advanced visitation management system on the market.
(PRWEB) January 17, 2013
Nearly a decade ago, Minneapolis based Renovo Software developed VisManager, an advanced inmate visitation scheduling, automation, and management system for jails and prisons. Since then, Renovo's VisManager has become the premier visitation management platform in the corrections industry. The release of version 5.4 builds on that reputation with a multitude of new features and enhancements.
VisManager is in use in several of the largest correctional facilities in North America, yet it scales down to meet the needs of virtually any small or mid-sized facility. "The system is unique in that it allows facilities to manage any combination of internet visits, on site video visits, and face-to-face visits through a single web application," stated Brian Peters, Director of Customer Accounts at Renovo Software. "The modular design of the platform allows facilities to purchase only the functionalities they need, and add new technologies like internet visits or secure inmate email as they see fit."
"Renovo has a diverse base of over 100 customers in the corrections industry," continued Peters, "and a strong dedication to customer satisfaction has resulted in a highly robust and comprehensive set of administrative capabilities. VisManager customers benefit from a dedicated team of developers that incorporate hundreds of customer requests each year." Facilities can update policies, restrictions, and configurations at any time—without incurring hidden custom development costs. This innovative approach protects facilities' investments and keeps visitation operating smoothly even as a facility and its policies change over time.
Renovo has further increased the depth of VisManager's administrative controls with the 5.4 release. A new image capture feature provides enhanced security by allowing facilities to store images of visitors and their IDs directly into the system. These images are then used during on site or internet visit check-ins to verify visitor identity. In addition to multicast capabilities, VisManager 5.4 now provides facilities with the option of utilizing gatekeepers to improve network reliability, simplify connections with courtrooms or public defenders, and potentially reduce the cost of network hardware.
Central to the VisManager system's success is its web-based visitor scheduling option. Traditional, first-come-first-served visitation may require visitors to travel to the facility and wait in line for hours, sometimes only to be turned away because the inmate has been restricted, moved, or reached their quota. VisManager allows visitors to register for, schedule, edit, and cancel their own visitations from their computers, mobile devices, or visitation kiosks. Visitor scheduling reduces crowds and conflict while providing facilities with a predictable schedule of upcoming visits. Facilities can reallocate staff to more mission critical tasks; visitors get a more transparent, accessible visitation process; and everyone benefits from a safer, more secure environment.
VisManager 5.4 comes with numerous enhancements to the visitor scheduling interface. With the introduction of Renovo Software's visitor support service, facilities can allow visitors to contact Renovo's support experts for direct assistance via phone, email, or a new live chat support feature that is built into the visitor web scheduling interface. With a visitor's permission, Renovo experts can even take control of the visitor's computer to help schedule visits. The Renovo support team manages hundreds of calls per week and has already helped thousands of visitors through this service. Visitor support is just one of a myriad of enhancements to the public scheduling interface that come with VisManager 5.4.
"VisManager 5.4 continues Renovo Software's legacy of providing the most advanced visitation management system on the market," summarized Peters. "Renovo has always had an unwavering commitment to quality and service. That commitment will continue to propel innovation and keep the VisManager platform at the forefront of visitation technology."
About Renovo Software
Renovo Software is a leading developer of software solutions for the video communications industry. The Twin-Cities-based company designs, develops and supports software solutions that schedule, automate, and manage complex video networks. Applications include video visitation, courtroom arraignment, distance learning, telemedicine, and business videoconferencing. For more information, visit http://www.renovosoftware.com.