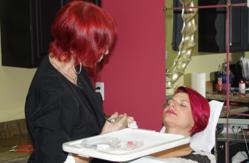 Nice-looking lips do wonders for a woman's appearance and everyone wants them
New York, NY (PRWEB) January 16, 2013
It may not be "viral." There's no sign of Justin Bieber, Barack Obama, or an eagle snatching a baby. But a permanent makeup video on YouTube showing an expert performing a live procedure has proven value to a beauty-conscious target audience. Sally Hayes' video titled "Permanent Makeup Lips – Live" has just topped the 25,000 view milestone in only its first four months, making it now one of the popular videos in this cosmetic industry.
"We just wanted to do a straightforward look at how easy a permanent lip makeup procedure can be for instantly enhancing the appearance of a woman's lips," says Hayes, an expert with offices in Scottsdale, AZ, New York, NY, and Las Vegas, NV. "We didn't need gimmicks. There was nothing we had to hide. So we showed the whole procedure unedited from start to finish. Women who care about looking and feeling sexy and beautiful just want honest information-driven content so they can make the best decisions for themselves."
Sally Hayes has been a permanent makeup artist since 1986. Since then she has performed tens of thousands of permanent makeup lips, permanent eyeliner, eyebrow tattoos, and cosmetic camouflage procedures. But the longtime veteran of live TV show guest appearances didn't start producing online videos until May 2011. After starting out slowly her YouTube channel has caught on with the public generating well over 100,000 views in its second year.
"Nice-looking lips do wonders for a woman's appearance and everyone wants them," says Hayes. "Helping others to see they can consistently have this every day without messy embarrassing smudges, smears, and rub offs of lipstick is what I think makes this procedure and this video in particular so attractive and popular. I'm no Lady Gaga. Trust me, it's not me they're not just tuning in to see."
About Sally Hayes Permanent Makeup
Many of the top plastic surgeons and women across the United States recommend Sally Hayes. As the leading permanent makeup artist specializing in natural-looking, undetectable appearance enhancements, she has offices in New York, NY, Las Vegas, NV, Scottsdale, AZ, and Los Angeles, CA. Sally helps women from around the world to look and feel more beautiful, youthful, and balanced with eyebrow tattoos, permanent eyeliner, permanent lip makeup, and cosmetic camouflage for post-surgery facelift scars and areolas.