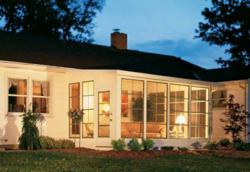 Screened enclosures can be designed for conversion later to an insulated room, so an owner can budget improvements in steps.
Miami, FL (PRWEB) January 21, 2013
Toys everywhere. Fruitless attempts to read while the TV is blaring. Bunk beds – and arguments over that top bunk. Worries over where to entertain.
They're all signs that a family may need more space, said Christopher Noe, president of Venetian Builders, Inc., Miami. Venetian Builders installs custom-designed sunrooms, patio covers, patio enclosures and screen pool enclosures in West Palm Beach, Miami, Fort Lauderdale, Miramar, Pinecrest, Miami Gardens, Homestead and all other South Florida communities.
"Moving can get a family more space, but moving is expensive," Noe said. "There's the cost of movers, title fees and title taxes. Commutes may grow – costly with today's gas prices. And kids must adjust to new schools, new teachers and, they hope, new friends."
Sometimes an affordable addition makes more sense, Noe said.
"But how do you even know it's time for more space?" Noe asked. "Here are some of the signs I've heard from homeowners over the years."

Toys are everywhere. "Maybe the bedrooms are too small for playing," Noe said. "Or the only place for play where Mom or Dad can keep an eye out is in the middle of traffic areas." Noe suggests a patio with patio cover as an inexpensive play area. "Typically built off the rear of a home, a patio with an insulated roof offers year-round play space in South Florida, with shelter from sun and rain," Noe said.
Rooms do double or triple duty. "If you have a living room that's for reading, playing video games and watching television, somebody's going to lose out," Noe said. Noe suggests a sunroom. "Living space in a sunroom can range from completely practical to sumptuous," Noe said. "With climate control and power, multi-use sunroom space is enjoyable all day, all night and all year."
Bedrooms are crowded. "Sometimes brothers or sisters have to share a room," Noe said. "And when they're young, sometimes brothers and sisters share; that's unworkable as children age. Adding a room is the only solution." Noe suggests an insulated patio enclosure: "Patio rooms can be built for all-weather use, with power and climate control. They're comfortable living space, and windows can open, then lock for security, just as in the rest of the house."
Basements become objects of envy. "In parts of the country with basements, family rooms are simple and inexpensive to add," Noe said. "In South Florida, where basements don't exist, expansion must be attached to the house." Noe suggests aluminum additions that cost a fraction of what rooms built by traditional construction do. "Simpler permitting, economical but strong materials and less labor add up to savings," Noe said.
Entertaining is a chore. "Older, smaller homes often lack the oversized kitchens and great rooms where company gathers in newer houses," Noe said. He suggests a screened patio enclosure. "Screened patios are great for entertaining, with convenient access to the kitchen," Noe said. "And screened enclosures can be designed for conversion later to an insulated room, so an owner can budget improvements in steps."
Venetian Builders offers free, detailed estimates on sunrooms, patio covers, patio enclosures and screened pool enclosures. For more information, call 866-596-2427.