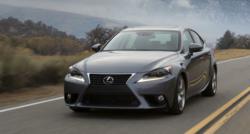 Lexus is known for creating partnerships with some of the most technologically advanced companies in the world to provide value for our customers - Enamul Islam, Director of E-Commerce at Keyes Lexus
Van Nuys, CA (PRWEB) January 18, 2013
Those who purchase a 2014 Lexus IS will be in for something a little different, as the manufacturer has announced that this will be the first car on the market with a subscription-free integrated traffic and weather information system. Through this system, vehicle owners will receive up to the minute weather and traffic updates without any additional cost.
This system updates based on the driver's location, which makes it easy for drivers to receive relevant information as they travel. Lexus is proud to be the first manufacturer to make this technology available without charging a subscription fee for its usage.
The new system is made possible through a partnership with iBiquity Digital Corporation, which helped develop HD Radio technology. With Lexus using this technology in the 2014 IS, owners can receive up to the minute traffic and weather reports through the navigation system or the display audio, depending on the vehicle's options.
It should be noted that most 2014 Lexus IS units come with a navigation system.
Those who opt for the navigation system will have an integrated and detailed display in the infotainment console. These car owners can also receive updates on a smartphone when it is connected to the vehicle's Enform System.
Vehicles without a navigation system are also covered, as the Lexus IS includes premium audio display, which also provides traffic and weather updates as they become available.
"Lexus is known for creating partnerships with some of the most technologically advanced companies in the world to provide value for our customers," said Enamul Islam, the Director of E-Commerce at Keyes Lexus. "By coming together with iBiquity Digital Corporation, we are able to offer something that no other car manufacturer in the world has even attempted and we are extremely proud of that."
In addition to this new information system, the 2014 Lexus IS is a rear-wheel-drive sedan that compares favorably to the BMW 3-Series and the Mercedes C-Class. In comes with LED daytime lights, a stylish bumper and grill and an all-new interior.
While the engine specifications will not be released for a few weeks, it is expected to include improvements over last year's model.
The staff at Keyes Lexus is very excited for the arrival of this new product and is already preparing for its arrival. The dealership, which recently won the Elite of Lexus Award because of its customer service record, can answer any questions that interested buyers might have on this new and exciting product.
The dealership also has a very competitive trade-in package and will give a $25 MasterCard gift card to anyone who comes in for an appraisal.
More information on this exciting new partnership should be made available in the coming weeks. Those in the Los Angeles area should not hesitate to stop by Keyes Lexus, give them a call at 866-684-0654 or visit the company's website at http://www.keyeslexus.com.
About Keyes Lexus:
Keyes Lexus is one of the original Lexus dealerships and one of the top dealerships in the entire nation. Since 1989, they have been serving clients around the valley and all over the country with unparalleled top-notch Lexus services in Los Angeles, Santa Monica, and the Van Nuys area. Keyes Lexus is an "Elite" of Lexus dealership award winner, which reflects their passion for providing their customers with a world-class ownership experience. Buyers can also find a wonderful selection of high quality pre-owned cars, vans and trucks from Lexus, Toyota, Honda, Chevy, Acura and more. For more information, please visit http://www.keyeslexus.com
Keyes Lexus
5905 Van Nuys Blvd,
Van Nuys, CA 91401