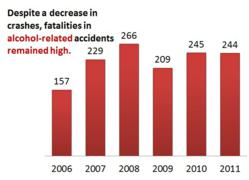 The goal with these reports is to raise awareness about the devastation alcohol-related crashes have on the community.
Oklahoma City, Oklahoma (PRWEB) January 18, 2013
Despite an overall decrease in alcohol-related crashes from 2010 to 2011, the fourth annual DUI Report compiled by McIntyre Law, P.C., shows that these accidents still produced a high number of fatalities. The fact that fatalities remained high confirms the deadly nature of alcohol-related accidents, and should act as a caution to Oklahomans headed out for parties and gatherings this holiday season.
The DUI report shows a decrease of just one drunk driving fatality in Oklahoma from 2010 to 2011. This is particularly concerning because Oklahoma saw an increase of 36 alcohol-related fatalities from 2009-2010. Over the past three years, drunk driving crashes and injuries related to those crashes decreased from a high in 2008 (5,201 crashes & 3,612 injuries) to just 4,411 alcohol-related crashes, and 3,156 related injuries.
The DUI report also reveals that:

The number of drunk driving fatalities in Oklahoma dropped by just one from 245 in 2010 to 244 in 2011.
39% of drunk driving accidents occurred in rural areas with poor or no lighting.
Roger Mills County had the highest rate of fatalities with 162.07 deaths per 100,000 residents, while Harmon County once again had zero drunk driving fatalities from 2006 to 2011.
In Oklahoma drunk driving is also the cause of nearly three times as many male deaths as female.
The report is based on statistics released by the Oklahoma Highway Safety Office (OHSO), the National Highway Safety Administration (NHTSA), and the Fatality Analysis Reporting System (FARS). The DUI report provides a glimpse at fatality rates throughout Oklahoma's counties and a look at trends tied to crash severity, gender, and road conditions.
"At McIntyre Law we pride ourselves on being part of the community, not just as personal injury attorneys defending those who've been harmed by negligence of another, but as advocates of safety statewide," says Noble McIntyre, senior partner and owner of McIntyre Law. "The goal with these reports is to raise awareness about the devastation alcohol-related crashes have on the community, and to encourage both awareness of this issue, and more and better prevention programs."
About McIntyre Law
McIntyre Law, P.C. serves clients across the state of Oklahoma who have suffered personal injury resulting from the negligence of another. Active in the community, McIntyre Law sponsors the Annual Day of Kindness turkey give-away each fall in Oklahoma City. For More information regarding drunk driving fatalities, or to view previous years' reports, visit: http://www.oklahoma-law.com/.