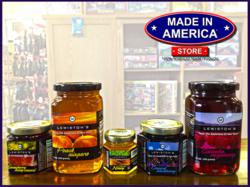 Its good to know that some of the products you buy, will help create jobs and livelihoods in my community.
(PRWEB) January 17, 2013
A Western New York favorite, Lewiston Jellies, produces some of the highest quality jellies in the industry. The Made In America Store strives for quality when it comes to their products and Lewiston Jellies was destined to join the cause.
100% American made products from American components. Save and create jobs today by buying American.
Lewiston Jellies were developed and created by a professional Chef with twenty eight years' experience in food preparation. James T. Malley is currently a culinary teacher in the Buffalo Public Schools and spent three years developing the perfect jelly recipe. Malley uses Western New York grapes and local fruits to develop the best combinations of flavor and sweetness. Along with the guidance of Cornell University and the packing expertise of Martin's Kitchen in Dundee, N.Y. Lewiston Jellies are a local hit all throughout the area, even expanding to New York City.
The Made In America Store currently carries three different sizes of Lewiston Jellies; 1.5 oz., 4 oz. and 12 oz.
Each glass container of Lewiston Jellies is packaged with bright labels each depicting a Western New York setting. The berries used in the jelly are primarily from North Collins, New York and the grapes used in the jelly are from Lewiston, N.Y. and from outlying areas of Western New York.
Concord grapes are a staple in Western New York yielding a thick, rich syrup loaded with natural flavor. The grape juice is combined with the juice from black raspberries grown in North Collins, New York. These berries are only available two weeks per year, and are abundant with rich juices.
The combination of blackberries with their aromatic nature, added to the sweetness of the Concord grape, is an exquisite yet explosive flavor that can be a welcome addition to the morning routine. It can also be versatile enough to use on a roast duck or game hen.
Check out the Made In America Store's full line up of completely U.S. produced Jellies from Lewiston Jellies.
Peach Juice from the Lewiston and Ontario County peach, blended and the Niagara grape juice produces a light jelly with a composite flavor.
One of Lewiston's newest creations, A combination of Strawberry juice, white concord and Niagara grape juice and finished with a hint of New York State honey. Strawberries from Western New York picked at the peak of the season juiced, pasteurized, and frozen and combined with sweet white concord juice from Branchport N.Y. Niagara grape juice from the Niagara region. A sweet delight packaged in a honey jar and a creative label.
Like the Made In America Store, Lewiston Jellies rely on local businesses to display fresh and new products. A lot of the products displayed at the Made In America Store are of Western new York origin.
"Using the community helps stimulate the local economy," said Mark Andol, owner and creator of the Made In America Store. "Its good to know that some of the products you buy, will help create jobs and livelihoods in my community."
The Made In America Store is the only brick and mortar store that sells 100% made in the United States products from over 350 vendors. Consumers can visit http://www.MadeInAmericaStore.com or call 716-652-4872 to get more information or shop our catalog of over 3,500 items. Both Active Duty Military Personnel and U.S. Military Veterans receive a 10% discount every day. Followers of the "Made In America" movement can keep updated with the Made In America Store through Facebook, Twitter, Google+, Pinterest, FourSquare and even their own blog on Wordpress!