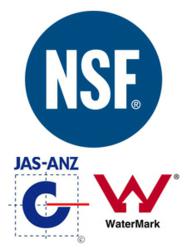 "As the first to earn WaterMark certification from NSF International, 3M is demonstrating their global leadership in product quality and opening up new opportunities in Australia and New Zealand."
Ann Arbor, Mich. (PRWEB) January 16, 2013
NSF International, a global independent public health organization that writes standards, and tests and certifies products for the water, food, and consumer goods industries, has certified 3M's commercial foodservice filtration systems to the Australian WaterMark Certification Scheme for plumbing, water treatment and distribution products. 3M's commercial foodservice filtration systems are the first to earn certification from NSF International, enabling 3M to distribute its product to the Australian market.
WaterMark certification is required for products to be legally installed in the water supply system in Australia and New Zealand. To earn WaterMark certification, 3M's commercial foodservice filtration systems were subject to rigorous material safety, performance and structural integrity testing. NSF auditors also conducted an audit of 3M's manufacturing facility to verify product formulations, suppliers, and quality assurance/quality control records and that only authorized materials were used to manufacture the product.
"With nearly 70 years of experience testing and certifying water products, NSF International is the only approved WaterMark certifier with the scientific expertise and capacity to provide all testing, auditing and product certification services in the U.S.," said Clif McLellan, Vice President of NSF International Water Programs. "As the first to earn WaterMark certification from NSF International, 3M is demonstrating their global leadership in product quality and opening up new opportunities in Australia and New Zealand."
NSF International is the only U.S. certification body to earn JAS-ANZ (Joint Accreditation System of Australia & New Zealand) accreditation and offers certification to the WaterMark Certification Scheme as part of its NSF Passport Program™. NSF began offering this program in 2011 to help companies achieve product certifications required in major and emerging global markets such as the UK, Australia, Brazil, China, Italy, France, Japan, and many others. The NSF Passport Program provides companies with a single point of contact to help navigate the various regulatory, testing and certification requirements for drinking water treatment, distribution and plumbing products in various countries. By doing so, NSF is able to streamline multiple country approval projects from the initial application to final approval, which reduces testing costs and a product's time to market.
To view 3M's online listing, click here.
Companies seeking more information about the program can visit NSF International's website or contact americas(at)nsf(dot)org or visit NSF's water programs web page. You can also mail europe(at)nsf(dot)org, asia(at)nsf(dot)org, brasil(at)nsf(dot)org and info(at)nsf(dot)org(dot)cn (China) for additional information.
Editor's note: To schedule an interview with Laura Moorman, Manager of NSF International's Passport Program, contact Greta Houlahan at +1 734-913-5723 or houlahan(at)nsf(dot)org.
About NSF International: NSF International is a global independent organization that writes standards, and tests and certifies products for the food, water and consumer goods industries to minimize adverse health effects and protect the environment (nsf.org). Founded in 1944, NSF is committed to protecting human health and safety worldwide.
NSF International's Water Programs require extensive product testing and unannounced audits of production facilities to verify that water treatment products meet the design, material, and performance requirements. NSF also developed the American national public health standards for materials/products coming into contact with drinking water and chemicals used to treat drinking water. NSF International is accredited by the American National Standards Institute (ANSI).
Additional NSF services include sustainability services, NSF Education and Training programs, safety audits for the food and water industries, organic certification, nutritional/dietary supplement certification, and management systems registrations.