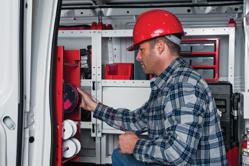 Crystal Lake, IL (PRWEB) January 18, 2013
WEATHER GUARD® Van Solutions now offers a complete range of new and re-engineered van storage accessories for professional users, and all commercial van models.
The WEATHER GUARD® Van Solutions Red Zone Accessories include a wide range of items designed to improve productivity and organization, including end panel accessories, tool and parts cabinets, cases and bin boxes, specialty equipment including tank holders and wire racks, window screens, floor mats, a secure Strong Box, Cab Command Center (a between-the-seat organizer), and the Grab & Go tool cart.
The culmination of years of research, WEATHER GUARD® Van Solutions identified
"Red Zones," or work zones in the back, side, and cab of the van, that can be organized to maximize productivity and efficiency.
"The new WEATHER GUARD® Van Solutions Red Zone accessories encompass a variety of items that help professionals be more organized and productive," states senior product manager, Jeff Kotz. "All accessories are easy to install, and heavy-duty for years of dependable service."
WEATHER GUARD® Van Solutions products and professional trade packages can be viewed in a comprehensive, new catalog, along with complete Vehicle and Roof Rack Fitting Guides at http://www.weatherguard.com. All WEATHER GUARD® Van Solutions offer an exclusive, Limited Lifetime Warranty.
About Knaack LLC
Knaack LLC manufactures and markets a complete line of WEATHER GUARD® truck and van equipment, including drawer units, shelving and cabinets, and racks for full size and compact pickups, vans and utility vehicles, as well as KNAACK® jobsite storage equipment, including storage chests, work stations, rolling work benches and hand tool boxes.
About WERNER CO.
Werner Co. is a world leader in the manufacturing and distribution of ladders, climbing equipment, ladder accessories and fall protection products under Werner, Green Bull, Keller and other licensed brands. Werner is North America's #1 brand in ladders and has built a reputation of excellence in safety for professionals and consumers. Backed by over 60 years of product innovation, Werner ladders are recognized for their durability and quality. All Werner Ladders meet or exceed applicable Occupational Safety and Health Administration (OSHA) and American National Standards Institute (ANSI) codes and standards for strength and structural integrity. Werner is headquartered in Greenville, Pennsylvania. For more information, visit http://www.wernerco.com.
For more information, please contact Knaack LLC, 420 E. Terra Cotta Avenue, Crystal Lake, IL 60014. Toll Free Phone: 800-456-7865. Web: http://www.Knaack.com, http://www.WeatherGuard.com. Find us on Facebook: http://www.facebook.com/KnaackStorage and http://www.facebook.com/WeatherGuardStorage. For media inquiries, please contact Heather Hawes at heather(at)ModernMarketingPartners(dot)com.