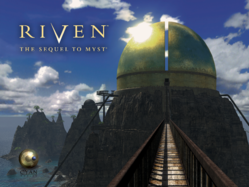 We were committed to putting the best version of Riven possible on the iPad.
Spokane, WA (PRWEB) January 17, 2013
Cyan Worlds, Inc., begins the celebration of Myst's 20th anniversary year by today announcing the immediate availability of Riven (The Sequel to Myst) for iPad. Riven for iPad is completely re-engineered with higher quality images, improved movies, and enhanced sounds - providing the ultimate Riven experience.
As the highly anticipated sequel to Myst, Riven's story-line begins where Myst's left off. Riven carries on the heritage of Myst in its unrivaled graphic detail and captivating, immersive aura, and advances that legacy several steps beyond. The core of Riven's design is rooted in a rich environment where the deep story and clever puzzles are intricately and seamlessly integrated, and unveiled naturally during the course of the player's journey. That core design is realized with a quality of images, animations, music, and sounds never before experienced in computer entertainment.
Riven's original development took over four years, and the iPad version required two additional years to complete. "We were committed to putting the best version of Riven possible on the iPad," states Cyan co-founder Rand Miller. "We've re-processed all five thousand images, and meticulously re-compressed much of the video - using every bit of Apple's two gigabyte app size limit. If you want to experience Riven, the iPad version is hard to beat." The end result is that almost every detail of the five CD's in the original Riven has been wrapped into this uncompromising iPad app.
The conversion of the original Myst, realMyst, and Riven to iOS have been "labors of love" for Cyan Worlds. They've stated that the touch interface is the most natural and intuitive way currently available to experience the games. The unique aspects of iOS devices also allow for some helpful additions to the experience. An optional "shake-a-hint" highlights interactive areas of the screen and provides a simple and subtle way for players to uncover things they might have missed. And like Myst and realMyst for iOS, Riven also includes a complete hint guide.
Originally released in 1997, Riven was enthusiastically received by both the public and the pundits, garnering industry praise, numerous awards, and best-selling status. Riven for iPad is available for a special introductory price of $5.99. (Riven for iPhone and iPod touch is also available for the new low price of $3.99.) For more details and information link to Cyan Worlds or Wikipedia.