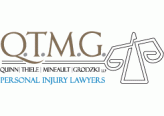 The new legislative change is now more favorable to automobile insurers than the injured victim.
OTTAWA, ONTARIO (PRWEB) January 29, 2013
Recent changes to Ontario's insurance law regime are having devastating consequences for many victims of accidents, according to Ottawa personal injury lawyer Anthony Mineault, managing partner with the personal injury law firm of Quinn Thiele Mineault Grodzki LLP.
The legislative changes to Ontario's Statutory Accident Benefits Schedule (SABS) have increased the number of claims based in negligence made against insurance brokers. At the same time, these changes have seriously reduced the benefits available to victims of motor vehicle accidents. This is making it more important than ever that injured parties choose the right personal injury lawyer to ensure that they receive as much compensation as the law permits.
Prior to the legislative change, insured motorists were entitled to receive standard benefits through their basic motor vehicle insurance policy such as a weekly house-keeping benefit in the amount of up to $100 or weekly care-giver benefit of $250 for the first dependent (and $50 per week per additional dependent). As a result of the legislative change, some of the standard benefits have ceased to form part of the basic accident benefit package previously offered by insurance companies. For example, house-keeping and care-giver benefits have become optional benefits.
Mr. Mineault states: "The changes made to SABS have seriously affected the amount of financial benefits an injured party could hope to receive immediately and while he is pursuing damages against the "at fault" driver by way of a court action initiated by a Ottawa personal injury lawyer. In the past victims were dependent on those additional insurance benefits to make ends meet and for treatment. The new legislative change is now more favorable to automobile insurers than the injured victim. Victims now find themselves in a more vulnerable position in a motor vehicle accident scenario".
The modifications to the SABS have not only resulted in greater financial prejudice against injured accident victims, they have also resulted in an increase in negligence based claims against insurance brokers. After September 1, 2010, insurance brokers who have failed to inform insurance policy holders of the legislative changes and who have failed to offer the new optional benefits during subsequent insurance policy renewals have potentially exposed themselves to a negligence claim.
According to Mr. Mineault: "The goal of insurance law is to ensure consumer protection, and automobile insurance companies continue to be obligated by law to offer and explain the costs of optional benefits in a manner that permits a potential insured to make an informed decision as to whether or not he wants to purchase an optional benefit. However it seems that since the change, some registered insurance brokers have failed to offer or explain optional benefits which, if they had been offered would have been purchased".
The optional benefits your insurance company must offer are: increased income replacement; caregiver and increased caregiver and dependent; house-keeping; increased medical, rehabilitation and attendant care; increased death and funeral; and an indexation benefit.
Mr. Mineault says that although most insurance brokers inform their clients of these new changes it appears a small minority have failed in their duty to inform of their client of the legislative change and new optional benefits. According to Mr. Mineault, this is an unfortunate side effect of the recent SABS changes: "Motorists are asked to pay more for insurance while receiving less in the form of financial assistance. Their entitlement to benefits is continuously under attack by insurance companies. Not only are policy holders faced with fighting for the preservation of accident related insurance benefits, some suffer from the negligence of their insurance brokers who have failed to offer and explain the benefits they would have properly needed in the circumstance".
Victims of car accidents usually find themselves in a vulnerable and precarious situation. Most often, the injuries they sustain do not permit them to return to work immediately. They suffer an inability to perform their important activities of daily living such as caring for themselves or their dependents. Accident benefits were initially legislated to ensure victims were not financially prejudiced by their injuries. On top of the SABS changes, the negligence of some insurance brokers as it relates to their obligation to inform and offer optional benefits simply compounds the problems which car accident victims face. According to Mr. Mineault: "provincial legislators seem more interested in helping insurance companies earn additional profits, rather than to protect consumers".
For more information, contact Anthony Mineault, managing partner at the Ottawa personal injury law firm of Quinn Thiele Mineault Grodzki LLP at 613-563-1131. http://www.pqtlaw.com/
About PQT Law
PQT Law is a leading Ottawa personal Injury law firm in Eastern Ontario that specializes in, car accident, dog bites and disability claims. They represent plaintiff accident victims and their families with the goal of getting them fair and reasonable compensation for their injuries.
-30-