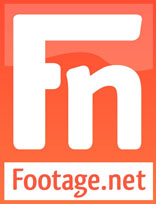 They know their beat and they know their customers, and we're happy that they've chosen to work with us to enhance their visibility across the global production community
New York, NY (PRWEB) January 17, 2013
Footage.net, the stock, archival and news footage search engine, announced today that preview clips from CelebrityFootage, a leading global supplier of celebrity and entertainment news and stock footage, are now available for viewing through Footage.net's stock footage search and screening platform. Based in LA, CelebrityFootage has become a go-to source for breaking news and archival coverage of celebrities.
Through this alliance, Footage.net users will be able to screen preview clips from CelebrityFootage's stock footage collection, and CelebrityFootage will reach a new and growing user base worldwide for its stock footage licensing business.
"We're committed to producing the highest quality footage of movie stars, musicians and all variety of bold faced names," said Michael Goldberg, President of CelebrityFootage. "Our editors specialize in selecting the best combination of key shots resulting in a tightly focused collection of highly curated video. We are counting on our partnership with Footage.net to ensure our reach to a wider global audience of footage users."
"The CelebrityFootage collection is a fantastic addition to Footage.net's search and screening platform," said David Seevers, Footage.net Chief Marketing Officer. "They're a leader in the entertainment footage space, and have developed a deep understanding of what customers want and how to deliver it. Their videographers and editors know exactly how their clients will use the material, so they shoot to those specifications. They know their beat and they know their customers, and we're happy that they've chosen to work with us to enhance their visibility across the global production community."
Footage.net has grown rapidly over the last several years to become one of the world's largest and most comprehensive online stock footage databases. CelebrityFootage clips will be available for screening through Footage.net alongside motion content from other prestigious footage companies, including, NBC News Archives, FootageBank, Framepool, and CNN ImageSource.
About Footage.net
Footage.net is the world's premier online resource for stock footage research. Since 1994, Footage.net has focused on meeting the needs of both footage users and footage providers. Today, Footage.net remains committed to helping users find the best footage as quickly and easily as possible; generating new leads and licensing opportunities for our member archives; and strengthening the footage licensing industry as a whole. Our dedicated search engine makes it easy for creative professionals to search 40 world-class footage collections simultaneously and view over 2 million clips, many of which are available for download. Our Global Search partners include some of the best-known companies in the stock footage industry, including AP Archive, FootageBank, Framepool, Historic Films and NBC News Archives, as well as some exciting new specialist collections, such as Skyworks, CriticalPast and OceanFootage. Footage.net is also home to the Zap Email, used every day by creative professionals to send footage requests instantly to over 50 top footage providers. Whether they're up against a deadline or searching for an obscure clip, creative professionals rely on Zap Emails every day to initiate their footage research projects, providing our Zap subscribers with a steady stream of new leads.
About CelebrityFootage
CelebrityFootage is a recognized leader in the stock footage industry. The CelebrityFootage collection spans over 25 years featuring all the top stars on the red carpet at Award Shows, Movie Premieres, Charity Benefits and more. Our unique positioning and use of High Definition cameras provide glamorous footage of celebrities as they pose for still pictures. Additionally, we offer sound bites from these events — an excellent complement to any celebrity driven story.
Many of the world's leading broadcasters, websites, mobile publishers and production companies rely on CelebrityFootage. You can expect immediate turnaround on all orders, FTP availability for broadcast quality downloads, and excellent customer service.