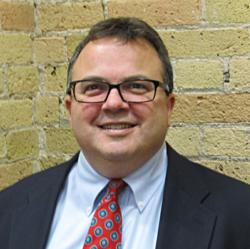 "Jeff has the perfect combination of skills and experience to lead sales at EnergyPrint." Priscilla Koeckeritz, EnergyPrint President and CEO
St. Paul, MN (PRWEB) January 18, 2013
EnergyPrint (http://www.EnergyPrint.com), a leading national provider of online energy management tools, has named Jeff Teeter as Senior Vice President of Sales. He will lead the sales team and manage and develop EnergyPrint's sales channels.
Leveraging his diverse professional background, Teeter brings valuable sales leadership and executive management roles from early stage and start-up companies as well as IBM, with extensive experience in software and information technology solutions. He and three colleagues founded Solution Technology in 1997, growing it from a startup to an organization with $100 million in revenue. He later sold that company and joined the leadership team of Logicalis where he led sales and was involved in identifying growth acquisitions.
"Jeff has the perfect combination of skills and experience to lead sales at EnergyPrint. His deep background in selling software into multiple channels and leading sales teams is exactly what we need, and we are excited to add him to our management team," said Priscilla Koeckeritz, EnergyPrint's President and CEO.
Teeter has received recognition and awards for his many accomplishments, including the prestigious Ernst and Young Entrepreneur of the Year Award. He earned a BSEE with a Cooperative Education Certificate from Purdue University.
Founded in 2009, EnergyPrint helps building owners and managers manage and reduce their energy use through easy to understand energy analytics delivered via an online energy management dashboard. Customers can accurately define their true energy costs, identify opportunities for savings and track energy efficiency results. Headquartered in St. Paul, MN, the company is a national leader in energy management software. To learn more about EnergyPrint, visit http://www.energyprint.com .