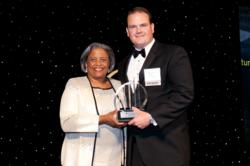 I have an army behind me and we can accomplish anything that we set out to achieve. There are no barriers.
Cincinnati, OH (PRWEB) January 18, 2013
Earlier this year, Ernst & Young LLP announced that Gary Mitchell, CEO of Divisions Maintenance Group, received the Ernst & Young Entrepreneur Of The Year® 2012 Award in the Services category in South Central Ohio and Kentucky. The award recognizes outstanding entrepreneurs who demonstrate excellence and extraordinary success in such areas as innovation, financial performance and personal commitment to their businesses and communities. Mitchell was selected by an independent panel of judges, and the regional award was presented at a special gala on June 28, 2012, in Downtown Cincinnati.
As a South Central Ohio and Kentucky award winner, Gary Mitchell became eligible for consideration for the National Entrepreneur of the Year 2012 Award, and was honored in Palm Springs, California, on November, 17 2012. The awards are the concluding event of the Ernst & Young Strategic Growth Forum, the nation's most prestigious gathering of high-growth, market-leading companies.
The unique award makes a difference through the way it encourages entrepreneurial activity among those with potential, and recognizes the contribution of people who inspire others with their vision, leadership and achievement. As the first and only truly global award of its kind, Entrepreneur of the Year celebrates those who are building and leading successful, growing and dynamic businesses, recognizing them through regional, national and global awards programs in more than 140 cities in more than 50 countries.
Divisions Maintenance Group provides facilities maintenance services for retailers and property management companies across the nation. Divisions combines cutting edge site inspection and customer portal technology with boots on the ground for every account – a business model that is revolutionizing the facilities maintenance industry. With core services in landscaping, parking lot maintenance, snow removal, plumbing, electrical and handyman services, Divisions is dedicated to delivering uninterrupted peace of mind for customers.
Mitchell explains, "Our customers are faced with finding many vendors and managing those vendors' services at individual locations across the country. When we can come in and bundle those services for them, we create a highly efficient way of working. When you combine this model with people that are extremely passionate about what they do, we've basically hit a homerun." Mitchell adds, "I have an army behind me and we can accomplish anything that we set out to achieve. There are no barriers."
Founded in 1999, Divisions has quickly become a national leader in the facilities maintenance industry. Divisions' expert team of Facility Management professionals and network of certified providers keeps properties running at their peak. Our position as a leader in the marketplace is the direct result of our unwavering commitment to provide uninterrupted peace of mind to our customers for their facilities' maintenance management needs.