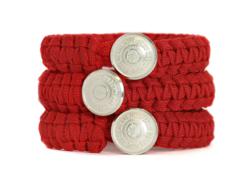 Chicago, IL (PRWEB) January 17, 2013
Just in time for Valentine's Day, Peace Cord® announces the gift that gives twice – the Hope Red bracelet. Handmade with red braided parachute cord and a silver frosted button, Peace Cord® creates employment opportunities for women in Afghanistan using fair labor practices. The Hope Red Peace Cord® is a perfect gift for Valentine's Day, and it directly benefits women artisans in Afghanistan.
Peace Cord® is a project of ARZU STUDIO HOPE, an innovative model of social entrepreneurship that helps Afghan women break the cycle of poverty by providing artisan-based employment, and access to education and healthcare. As a social business, ARZU aims to become 100% self-sustaining through sales revenues of its products, and uses profits to drive transformational change for destitute Afghan women.
"The women who are making Peace Cord® are working outside of the home, often for the first time," said Connie Duckworth, Founder and CEO of ARZU. "With this opportunity, these women are able to provide for their families and receive education and healthcare support. Peace Cord® creates sustained economic opportunities, which is the framework for peace."
Unlike other livelihood projects that require physical endurance and expert skill, Peace Cord® is accessible to every woman in Afghanistan, creating jobs for the most vulnerable women that other aid projects fail to reach.
"Last February, I was very pregnant with my first child. It was uncomfortable to stand and I could not bend over well. I found employment with ARZU weaving Peace Cord® and was able to make an income for my family, while sitting down on a comfortable bench in a warm room," said 25-year-old Negina, an ARZU Peace Cord® weaver.
The Peace Cord® Valentine's Day Hope Red bracelet and other models are available for purchase online at http://www.peacecord.org for $10-$15. The Hope bracelets are also available in Gold, Sage Grey, Navy and Neon Orange colors. Also choose from best-selling Peace Cord® military styles with Air Force, Army, Coast Guard, Marine, and Navy dress uniform buttons. Peace Cord® has received widespread recognition from Glamour Magazine, WGNTV, and The TODAY Show.
About ARZU:
ARZU STUDIO HOPE is an innovative model of social entrepreneurship that empowers Afghan women by providing fair-labor, artisan- based employment and access to education and healthcare. ARZU, which means "hope" in Dari, is an example of a "for-benefit" corporation model, a 501(c)(3) not-for-profit organization that uses private sector practices to create jobs in rural villages in Afghanistan and produces export quality products. Net proceeds from the sales of ARZU's flagship products, ARZU STUDIO HOPE rugs and Peace Cord® bracelets, directly benefit Afghans in the form of fair wages and social benefits, rather than accruing to investors or shareholders. For more information visit us at http://www.arzustudiohope.org.