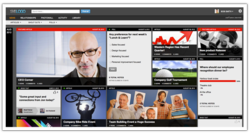 Jostle's people-centric approach is well adapted to how work really happens inside of organizations.
Vancouver, Canada (PRWEB UK) 22 January 2013
Jostle Corporation (http://www.jostle.me), a next-generation intranet software company, and Transitive Society, a consultancy helping companies transform in a connected world, today announced a strategic partnership to help European and African organizations adopt Jostle's innovative People Engagement® platform.
The partnership brings together Vancouver-based Jostle Corporation with the Paris-based Transitive Society. The two like-minded organizations share a common goal in helping energize corporate culture around the globe. Jostle's People Engagement® platform is a cloud based intranet that enables employees, amplifies culture, and facilitates teamwork. Meanwhile, Transitive Society is a leader in helping companies embrace complexity and adapt organizational structures to better perform in a global marketplace.
"Jostle is rapidly accelerating into the European market, where our unique and elegant approach is strongly resonating with customers. Francois Xavier and Thierry are seasoned leaders with a proven track record of assisting executive teams to set pragmatic strategies and adopt the right tools," observed Jostle CEO Brad Palmer.
Together Francois Xavier and Thierry have worked with a wide variety of organizations, from innovative startups to local governments to large multinationals, across many different industries. Francois Xavier brings over 25 years of executive management and operations experience working for innovative high tech companies. This is nicely complemented by Thierry's 20 years of expertise in marketing, cultural trend analysis, and social business strategy.
"We have seen organizations struggle to make traditional intranets and first-generation enterprise social platforms work. Jostle's people-centric approach is well adapted to how work really happens inside of organizations," commented Thierry de Baillon, co-founder of Transitive Society. "We are excited to see companies come to life, thanks to the focus on connecting people and amplifying culture," added Francois Xavier Dumont, fellow co-founder of the Transitive Society.
About Jostle Corporation:
Jostle's cloud-based People Engagement® platform is the next-generation intranet that helps organizations around the globe enable their employees and drive their culture, in simple and engaging ways. Jostle's innovative approach results from an experienced team that brings three essential ingredients together – enterprise leadership, user experience design, and web-enabled software architecture. To share in our magic please visit us online at http://www.jostle.me. Based in Vancouver, Canada, Jostle's enterprise platform does what intranets always dreamed of doing, but never could.
About Transitive Society:
Transitive Society is a consulting agency helping companies transform in a human-centered connected world. In today's web-enabled world companies and organizations, public as well as private, face complex challenges and totally new opportunities. Transitive Society helps companies and organizations of any size find their own voice, and develop their capability to innovate and to adapt to such changes with perception, culture and context. http://www.transitive-society.com
Executive Bios
Brad Palmer: Brad is the co-founder and CEO of Jostle Corporation, creator of the People Engagement® platform that helps organizations around the globe enable their employees and drive their culture, in simple and engaging ways. Brad has more than 30 years of experience leading multidisciplinary teams and driving the commercialization of technology businesses. This experience spans the private, public, and government sectors and a wide range of cultures, industries, and business models. Brad's expertise helped Jostle understand exactly why traditional intranets fail to enable and engage employees and innovate a new approach. His expertise in strategy, process and leadership continue to be a driving force in the growth of the Jostle Corporation.
Thierry de Baillon: Following art studies at ENSAD Paris, Thierry worked for major French and international fashion houses, where he focused on detecting and deciphering emerging cultural and social trends for large organizations. He later held diverse positions as designer, art and marketing director. More recently he spent 5 years at Sogeti, where he lead intranet projects, and set up knowledge management and collaborative practices internally, and consulted to customers on Enterprise 2.0 strategies.
Francois Xavier Dumont: Francois Xavier has over 25 years experience leading commercial and sales operations, starting from scratch and evangelizing the market through EMEA in high-tech companies including SSA, MARCAM, CLARIFY, IONA Technologies, TIBCO Software, SupportSoft, & PrismTech. He has Master's degrees in Marketing, Finance & Management, as well as in Computer Sciences at Paris Dauphine.