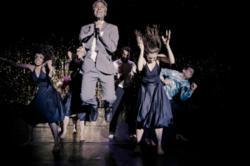 Miami, FL (PRWEB) January 23, 2013
A profile of Miami's own dynamic and inventive choreographer Rosie Herrera kicks off WPBT2 public television's new original series, Art Loft, beginning Tuesday, February 5, 7:30 p.m. The weekly 30-minute art program will showcase local and national artists, openings, installations, performances, and art organizations that are positioning South Florida as an emerging leader in the world of art.
"With most media outlets cutting back on arts coverage at a time when this region is actually beginning to define itself as an international leader in the arts it seemed like the right time to shine a light on our local community," says Neal Hecker, Chief Content Officer for WPBT2. "Art Loft will draw on the wide variety of local producers to help develop and produce content that will provide viewers a lens on this thriving and exciting arts scene." Art Loft is designed to be a collaboration between WPBT2, local artists, producers and other PBS stations around the county.
In addition to the segment on Herrera, Art Loft 's premiere show will also feature Arts Garage in Delray Beach, a cultural hub for visual artists, musicians and performers and the jewel in the crown of a revitalized downtown Arts District and a profile of famed violin virtuoso Itzhak Perlman.
Funding for Art Loft is made possible through generous grants from Newman's Own Foundation and Chappman Foundation.
About WPBT2
South Florida's premier public broadcaster, WPBT2, is a community-licensed, not-for-profit media enterprise serving communities from the Treasure Coast to the Florida Keys. WPBT2 provides high quality content from PBS, independent acquisitions and its own original productions. WPBT2's digital media platform, offers: 2HD, a 24-hour high definition channel; Digital 2.2, a mix of Science & Nature Channel, The Florida Channel and Create; Digital 2.3, V-me, a 24-hour national Spanish-language network; and http://www.wpbt2.org, the WPBT2 website including, Impromp2 (a community blog), the WPBT2 Video Player and uVu, a video sharing website.