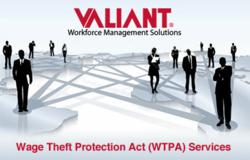 WTPA compliance is important, but let's face it, business owners have a lot on their plate and these things sometimes fall through the cracks.
- VP, Michael Busch
Woodbury, NY (PRWEB) January 23, 2013
The Wage Theft Prevention Act (WTPA) went into effect on April 9, 2011. Among other things, it requires NYS employers to give written notice of wage information to each employee by February 1 of each year. This notice must be in English and, if the employee is a non-native English speaker, in their native language as well. The latter case only applies if a translation is provided by the New York State Department of Labor. The notice must include the following information:
1. Employee's regular and overtime rate(s) of pay
2. Basis of wage payment
3. Allowances claimed as part of minimum wage
4. Regular payday
5. Employer's corporate and DBA name
6. Employer's address and phone number
According to Valiant President, Michael Busch: "WTPA compliance is important, but let's face it, business owners have a lot on their plate and these things sometimes fall through the cracks. At Valiant, we're constantly striving to make it easier for our clients to meet Department of Labor standards. This is just one example of that."
Valiant's WTPA Notification Services include completion of the LS55 form for hourly employees and the LS59 form for salaried employees. The forms are completed by the Valiant system in both English and Spanish, using information from the Vault payroll database. Employers are required to add the preparer's name and title to each form and to have employees sign and date them. For forms in native languages other than English or Spanish, it is the employer's responsibility to transfer information from the English form.
The fee for this service is $100 base per company (FEIN) and $2 per employee. Valiant clients can contact their payroll representatives or teams to find out more information. Non-Valiant clients looking for more information about Valiant's WTPA services can contact Rick Casmass at: rick(dot)casmass(at)valiant(dot)com.
About Valiant:
Valiant is a privately owned workforce management solutions provider. Valiant supplies comprehensive time and attendance, scheduling, payroll, HR and business process outsourcing solutions to more than 2,200 customers doing business in a wide range of markets and industries. Valiant's payroll processing exceeds $8 billion per year and its facilities and services exceed stringent audit and quality standards, including SSAE16 Type II. Valiant solutions empower organizations to reduce operating costs, increase efficiency and streamline operations.
Contact Information:
Jeff DiDomenico
Valiant Workforce Management Solutions
110 Crossways Park Drive, Woodbury, NY 11797
http://www.valiant.com
Phone: (516) 390-1122
Phone: (800) 699-0455