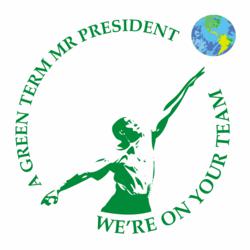 Los Angeles, California (PRWEB) January 16, 2013
Saturday, January 19th, two days before the Inauguration of President Obama, EarthWE will host an important, innovative pre-Inaugural "message to the President" event in support of environmental groups fighting against global warming and aiding victims of Hurricane Sandy.
"A Green Term, Mr. President" is a free event to bring people together in a festive atmosphere from noon to midnight. The evening features the Grammy Award-winning world fusion rock group, Ozomatli at 7 pm, followed by two exciting spectacle performance groups, Nudigenous Performance Art and Kaya Experience, plus Jon Marie Mack's Auradrone feat musical celebration and the band Love in the Circus, with DJs Imagika and Stephan Jacobs elevating the dance party to Inaugural-best levels.
Earlier in the day 100 local artists will paint on 100 canvases their vision of a Green Term. Proceeds from the paintings will go to benefit environmental groups and Hurricane Sandy relief. A number of influential artists will be taking part in the live painting, including some of the well-known CBS graffiti artists such as Mear One, Bleek, Ryoe, Dycpher, and Owie, in addition to other celebrity artists including Plasticgod, Septerhead, Tuckercash, Angry Panda, and more. All of the "Paint The World You Want" paintings created at the event will be exhibited at an official invite-only after-party hosted by art LA at Bergamot Station on February 12. For more information visit http://earthwe.com/events/detail/paint-the-world-you-want-2.
There will be a special afternoon Earth Harp Yoga experience in which the exquisite venue of St. Vibiana's Church will be transformed into a giant musical instrument.
"A Green Term, Mr. President" features groups such as Environment California, Global Green USA, Natural Resources Defense Council, Music For Relief/Power The World, Amazon Watch, Coalition For Clean Air, Kids vs. Global Warming, and others that are taking action on climate change issues and supporting practical measures for a more sustainable future. The event is intended to encourage President Obama to announce that fighting climate change will be a high priority in a committed "green" second term.
"A Green Term, Mr. President" is a "Towards Zero Waste" event, certified by the CRRA (California Resource Recovery Association http://www.crra.com/).
During the event, 1,000 free tickets will be given away to guests who indicate they want to attend EarthWE's follow-up May 19 event devoted to creating a mindset of peace in the world. Just as this pre-Inaugural party, "A Green Term, Mr. President", supports co-sponsoring environmental organizations, so EarthWE's May 19th event will honor peacemaking organizations under the banner theme of "Peacetime." At "Peacetime", as in this event, more than 100 artists will paint their vision of the peaceful world they'd like to see by day, followed by a memorable concert.
"A Green Term, Mr. President" is free, but capacity is limited. To guarantee access to the event, people should register at EarthWE.com. All in attendance will be entered into a raffle to win two VIP tickets to Global Green USA's Pre-Oscar Party on February 20th in Hollywood.
Parking/Transportation:
Driving Directions: From either direction on the 110, take East 4th St. EXIT 23B. Go straight east on 4th St for 0.6 miles, then turn left onto Main St. - 214 South Main St. is 0.2 miles on your right
Parking: There are public pay lots available on Main St., just south of and directly across the street from the church
Public Transportation: Red Line: Civic Center; Gold Line: Little Tokyo
Bus Lines: DASH A & D; MTA 30, 330, 33, 733, 83, 92, 728, and more
Though there is ample parking surrounding the venue, everyone is encouraged to carpool, ride his or her bike, or take the metro to this GREEN event. A secure section for bikes will be provided in the lot next to the Vibiana.
More About EarthWE:
EarthWE's primary goal is to make good-cause and philanthropic involvement more rewarding and fun that it has ever been. EarthWE promotes volunteerism with a new level of mass participation backed up by a dynamic technology platform, one that matches people with volunteer and mentoring opportunities and publicizes philanthropies and non-profit organizations doing important work.
EarthWE's online platform will allow thousands of non-profit organizations to post their causes – whether locally, nationally or globally oriented – and gain prominence via EarthWE member support to give them more exposure and more supporters – and potentially to become one of the select organizations chosen to benefit from EarthWE events and advertising.
For more information on EarthWE, visit http://earthwe.com/.
For up to the minute updates from EarthWE follow them on Facebook at https://www.facebook.com/EarthWithEveryone and Twitter- @EarthWE.
Media Contact: Kelley Coughlan, Melrose PR, Kelley(at)melrosepr(dot)com, (310) 450-7960, http://www.melrosepr.com
###