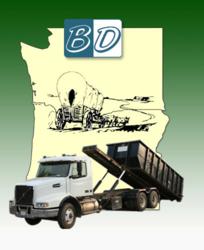 Seattle, WA (PRWEB) January 17, 2013
Cleveland-based dumpster rental company, Budget Dumpster LLC, has started operating in Seattle, Washington, as well as Portland and Eugene, Oregon. This follows hot on the heels of the company's other territorial expansions, which includes the cities of Las Vegas and Phoenix. The company aims to develop a strong customer base in the region, paving the way for future expansions of its service area.
This latest expansion was made possible through a series of partnerships with affiliated trash haulers. These haulers provide dumpster rentals in Portland, Eugene and Seattle as part of a long-term agreement with the company. Through these partnerships, both Budget Dumpster and its affiliates are able to capitalize on consumer demand for alternative methods of waste removal. As such, the company's dumpster rental services are targeted towards customers who have an abundance of waste, but cannot use municipal trash pick-up services. For example, construction, demolition or large cleaning projects.
Part of Budget Dumpster's strategy to capture the attention of their prospective customers is to offer a variety of dumpster sizes. In particular, their Seattle dumpster rental offerings include 20, 30, and 40 yard containers. This is the same range of sizes the company offers as part of its Portland and Eugene, OR dumpster rental services. These sizes allow the company to cater to customers with different trash disposal problems. In general, a particular size is selected based on the volume of trash that the customer needs removed. But the type of waste to be removed is also a factor in the selection. Typical examples of the waste collected include construction debris and general household waste. This waste can originate from a broad range of projects, including home cleanouts, remodels, renovations, construction work, or even demolition.
Budget Dumpster's waste removal service utilizes roll-off dumpsters that are transported via specialized trucks. The term 'roll-off' refers to the way in which the dumpsters roll off the backs of these trucks. The company rents these dumpsters out to residential and commercial customers as temporary waste containers. Their portability makes them ideal for placement in front of homes or on construction sites. They feature an open-top design so that customers can easily place items inside the container. This is particularly useful for construction crews who can use their on-site machinery to dump waste items inside the roll-off container.
In order to rent a dumpster from Budget Dumpster, customers must call in through a dedicated phone number. This will connect the customer to a service representative who will provide information on available dumpster sizes and their associated pricing. Once a customer has made their selection, their order is added to the delivery schedule. The date of delivery varies based on the availability of the ordered container, but most customers can expect their dumpsters within 1-2 business days.
When it comes to disposing of their customer's waste, the company uses different types of waste processing facilities. These are typically transfer stations, but recycling centers are also used based on regional availability. Most transfer stations will separate out recyclables for later processing, while also preparing other municipal solid waste for disposal. Since the transfer station sorts the refuse, most customers who use Budget Dumpster's service can mix their waste without having to separate their recyclable materials.
Budget Dumpster continues to add additional service areas to its roster of cities, focusing on a mixture of major markets and underserved areas. The company maintains solid growth in its current areas of operation, giving it a solid foundation for its future plans of expansion.
About Budget Dumpster
Budget Dumpster has been providing cities across the country with an affordable waste disposal alternative since 2005. Since its inception, the company has grown to become one of the premiere providers of dumpster rentals. Its ongoing goal is to expand its service to strategic markets within the United States. It currently operates in 35 states, including Washington D.C., and plans to roll-out its service to many more customers in the years ahead.