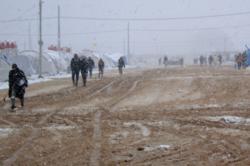 They have nowhere to go. We saw a family living in a metal container.
Sarasota, Fla. (PRWEB) January 16, 2013
International disaster relief organization, ShelterBox, is in Lebanon on standby to deliver winterized shelter and other emergency supplies to Syrian refugees in response to the Lebanese government's request for international help.
ShelterBox responds following disasters such as earthquake, flood, tsunami, hurricane, cyclone or conflict by delivering boxes of aid. Each box contains a disaster relief tent, stove, water filtration system, blankets and other items necessary to help families live independently and with dignity in the months following disaster.
Members of the highly trained ShelterBox Response Team (SRT) are waiting for a consignment of hundreds of boxes containing winterized tents, thermal groundsheets, blankets and other emergency supplies they will then distribute to refugees.
ShelterBox is advanced in its response among international relief organizations in already having permission from Lebanon's Minister of Social Affairs for an agreed quantity of ShelterBoxes to be sent to the country specifically for Syrian refugees.
Already 190,000 Syrian people have registered as refugees in Lebanon, though the figure is believed to be more than 300,000. SRT member Fiona McElroy (UK) described the need for winterized shelter, as many families are living in whatever vacant structures they find during the worst winter storms the region has seen in 20 years.
"They have nowhere to go," McElroy said. "We saw a family living in a metal container, which, in the sub-zero temperatures, would be cold enough to be life-threatening."
ShelterBox first responded to the Syrian refugee crisis in October 2012, by delivering 500 boxes of winterized aid to the Domiz refugee camp in the Kurdistan region of Iraq, and have continued to work in the neighboring countries to which many Syrians have fled.
By December 2012, ShelterBox aid crossed into Syria and was distributed to 710 families living families living in the Al-Salameh camp near the Turkey-Syria border.
ShelterBox is also responding to the typhoon in the Philippines, bushfires in Australia and flooding in Nigeria.
ABOUT SHELTERBOX USA
Since 2000, ShelterBox has provided shelter, warmth and dignity following more than 200 disasters in over 85 countries. ShelterBox instantly responds to earthquake, volcano, flood, hurricane, cyclone, tsunami or conflict by delivering boxes of aid. Each iconic green ShelterBox contains a disaster relief tent for an extended family, stove, blankets and water filtration system, among other tools for survival. ShelterBox's American affiliate, ShelterBox USA is headquartered in Sarasota, Florida. Individual tax-deductible donations to ShelterBox USA can be made at http://www.shelterboxusa.org, 941-907-6036 or via text message by sending SHELTER to 20222 for a one-time $10 donation.
# # #