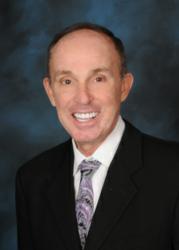 In the many years I served as an Orange County Deputy District Attorney, Paul Wallin stands out as one of the most thoroughly prepared criminal defense attorneys I ever had to do battle with. He was always passionate, committed and extremely effective
Los Angeles, CA (PRWEB) January 16, 2013
Widely-recognized for providing top quality legal services to tens of thousands of California families, Paul J. Wallin celebrates 35 years as a leading California based criminal lawyer and member in good standing with the California State Bar Association. As the founding partner of Wallin & Klarich, Mr. Wallin is often called upon to act as a media commentator on important legal issues, having appeared on programs such as NBC's The Today Show and Fox's The O'Reilly Factor regarding his firm's high profile cases.
"I chose to devote my professional life to defending persons who were facing criminal charges because I realized that I had a unique ability and strong personal motivation to win cases on their behalf," said Wallin of his longstanding successful career. "I recognized that the 'deck was not stacked fairly' in that the District Attorney's office was often much more prepared than the public defender. I believe that people facing many years in prison deserve the highest quality representation they can find, and I decided that Wallin & Klarich would be there for those accused of crimes."
Mr. Wallin's legal expertise, hard work and dedication to his clients has led Wallin & Klarich to become one of the most successful criminal defense, family and juvenile dependency law firms in the United States.
After graduating from UCLA and Pepperdine University School of Law, Mr. Wallin founded Wallin & Klarich in 1981. During his early practice, he became well known for representing school teachers and other professionals who were wrongfully accused of sex offenses. In 1985 he was named by the Orange County Register as one of the "85 to Watch in '85" due to his winning record of not guilty verdicts and dismissals in high-profile criminal cases. He developed a well-regarded reputation in the legal community for his vigorous and fearless legal fight on behalf of his clients.
"In the many years I served as an Orange County Deputy District Attorney, Paul Wallin stands out as one of the most thoroughly prepared criminal defense attorneys I ever had to do battle with. He was always passionate, committed and extremely effective," said former Deputy District Attorney Lew Rosenblum.
Mr. Wallin is admitted to practice in all California state courts, the United States District Court, the Central District of California, the Southern District of California, the U.S. Court of Appeals 9th Circuit, and the California Supreme Court. He has served as Chairman of the Criminal Law Section of the Orange County Bar Association, has been a Delegate to the California State Bar Convention. He also serves as a Presiding Fee Arbitrator for the Orange County Bar Association.
Wallin & Klarich has numerous offices located in California helping thousands of clients annually with criminal defense and family law matters.
# # #
About Wallin & Klarich
As a premiere criminal defense and family law firm based in California, Wallin and Klarich ( http://www.WKLaw.com and http://www.WKFamilyLaw.com) has been assisting clients from across the country for over thirty years. The firm believes that every person is entitled to the highest quality legal assistance when it comes to facing difficult situations and has committed all of its resources to aggressively defending its clients. The firm has established itself as one of the most successful in the nation when it comes to defending against charges of DUI, criminal matters and sex crimes, and is acknowledged for successfully handling divorce and child custody cases. By making certain that our clients legal rights are always protected we take the "fear" out of the legal fight.