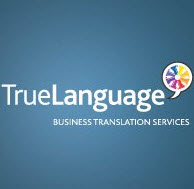 "Our dedication to deliver high quality translation and language services since our founding in 2007 is paying off", says Uli Dendy, Co-Founder of TrueLanguage LLC
Atlanta, Georgia (PRWEB) January 17, 2013
Atlanta based language service provider adds key staff members to help manage its continued growth.
"Our dedication to deliver high quality translation and language services since our founding in 2007 is paying off", says Uli Dendy, Co-Founder of TrueLanguage LLC. "Our goal with each client is to look beyond the actual translation project and support our clients with process consultancy to achieve lean translation management. Managing translations to be effective and efficient is one of our core strengths.
"We are glad that our philosophy is well accepted in the market and we are delighted to welcome two new members to our growing staff – Doris Johnson and Donald Gowens. Doris will serve as the Director of Strategic Business Development while Donald will assume a role in project management," said Uli Dendy. "Our newest staff members both bring to TrueLanguage a unique set of skills that will help us continue to provide our clients with high quality language services. As we continue to grow, it is important to add people like Doris and Donald who are not only experienced but also share our core values and dedication to our clients."
As the Director of Strategic Business Development, Doris will apply her expertise in the translation industry and business acumen to create and implement a strategic development plan that will help TrueLanguage further penetrate existing markets while continuing to attract new business. Prior to TrueLanguage, Doris was responsible for negotiating multi-million dollar contracts for SDL, a leading provider of integrated global information management solutions located in Stuttgart, Germany.
Donald has over 10 years of experience providing quality language services to private, professional and government clients combined with a strong background in the legal industry. In his role as Project Manager, Donald will be responsible for ensuring the timely completion and final quality assurance of client deliverables. Donald previously served as a managing linguist for One World Language Solutions, LLC. Donald received a Bachelor of Arts degree in Spanish from Florida A&M University with a minor in Business Administration. Fluent in Spanish, Donald is committed to advancing the growth of a global society by promoting the Spanish language and the importance of multilingualism.
About TrueLanguage
Based in Atlanta, TrueLanguage is a full-service professional localization company that provides cost-effective translation, interpretation and localization services based on each client's specific needs. TrueLanguage offers clients a strong combination of professional language experts, centralized project management and outstanding customer service to ensure accurate, compatible, reliable and authentic translation and interpretation in more than 60 languages worldwide. For more information on TrueLanguage and its worldwide localization services, visit http://www.truelanguage.com or contact the firm at info(at)truelanguage(dot)com or 770.850.1205.