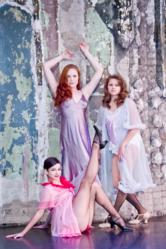 Minneapolis, MN (PRWEB) January 22, 2013
ColliDe Theatrical Dance Company presents the world premiere of its original theatrical jazz dance musical, "Lot of Living to Do." Inspired by famed St. Paul madam, Nina Crawford, "Lot of Living to Do" portrays the struggles and hopes of three young women who are thrown into a life of prostitution during the 1930's.
"Lot of Living to Do" is performed in the style of Broadway's Tony Award-winning musical "Movin' Out" and features the live vocals of Katie Gearty and Jared Oxborough. The dance talents of Lauren Anderson, Renee Guittar, Kelly Adams, Galen Higgins, and Jeff Quast are complemented by a talented ensemble of dancers, actors, and musicians.
Performances take place February 14, 15, 16 at 7:30 p.m., and February 17 at 2 p.m. and 7:30 p.m. at The Southern Theatre, 1420 Washington Avenue, Minneapolis. Please visit http://www.Collidetheatrical.com for ticket information.
This production will raise awareness for the Minnesota Women's Foundation's Campaign, "Minnesota Girls are Not for Sale".