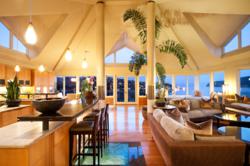 RezLux provides San Francisco Luxury Vacation Rentals year round.
San Francisco, CA (PRWEB) January 22, 2013
San Francisco, California (January 15, 2013) – In response to demand from both homeowners and people looking for vacation rentals, RezLux has decided to expand its premier home rental service to year round. RezLux will still have a highly curated portfolio of "America's Cup Ready" properties (see RezLux.com) in anticipation of the upcoming sailing event in the San Francisco Bay area. However, clients are seeking luxury home rentals, and the affiliated concierge services, throughout the year.
"San Francisco is one of the greatest cities in the world," said Charlie Martin, Managing Director of RezLux LLC, "and visitors come here every month of the year for culture, attractions, and great food in addition to world class events. To meet the needs of our rental clients, we simply had to extend our service to year round. While vacation rentals remain our major focus, we have even done longer term leases in response to requests from clients either relocating to the Bay Area or visiting for an extended period."
RezLux has succeeded, according to Martin, because the firm has removed the two most common risks in the home rental industry.

The rental clients will find when they arrive at RezLux properties the same quality and luxury as they viewed on the RezLux website. The RezLux principals who are all locals to the Bay Area, are world travelers, own luxury homes themselves and have handpicked each property in the RezLux portfolio; and
All deposits and rental payments are handled through the trust account of the local agency of Sotheby's International Realty so both rental and homeowner clients can feel secure about their funds.
The RezLux level of service has convinced numerous homeowners to list their special houses with RezLux, resulting in a unique portfolio of luxury properties.
RezLux LLC is a firm specializing in the rental of luxury homes in the San Francisco Bay Area. The firm was formed in 2011 and its three professionals have over 60 years of real estate experience. For more information, see RezLux.com or call 415-689-6739.