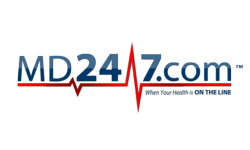 MD247 Invites Los Angeles to Play Game!
Tampa, FL (PRWEB) January 17, 2013
In order to continue building awareness in Los Angeles, California about the field of telemedicine, MD247 announced an ongoing contest in which it would be awarding $1,000.00 to the 5,000th person to like for the MD247 Facebook page. The winner will be determined using a record of all likes provided to the parties responsible for the maintenance of the MD247 business maintaining a business page on the social media platform. The $1,000.00 will be split equally between the 5,000th person to like the MD247 Facebook page, and the friend who referred that person to the MD247 Facebook page.
The MD247 social media team will be making frequent posts to build interest in the Los Angeles area about the prize, and the contest will eventually be shared on a daily basis. The contest will be running through 03/01/2013, and MD247 is allowing both employees and anyone else interested in the MD247 program to participate in the contest.
All parties interested in participating in the MD247 contest for $1,000.00 should visit the MD247 Facebook business page at http://www.facebook.com/md247dotcom.
Seminole Florida based MD247 (MD 247; MD/247; M.D. 247; MD247.COM) provides discounted telemedicine healthcare services nationwide to families, and discounted wholesale telemedicine healthcare to businesses. MD247 has successfully provided 25,000 people the ability to talk with a Los Angeles doctor twenty-four hours a day, talk to a nurse twenty-four hours a day, receive discounted prescription drugs and receive discounted in-person healthcare services. In addition to discounted healthcare services, MD247 provides support to groups supporting the employment of veterans of the United States Armed Services. MD247 services, as well as informational blogs, can be found for review online at http://www.md247.com.