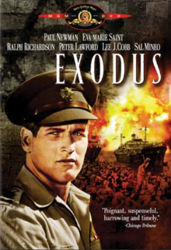 We are honored to feature a film that highlights so powerfully this nation and people God has chosen as His own.
(PRWEB) January 17, 2013
Trinity Broadcasting Network, the world's largest religious network and America's most-watched faith channel, is privileged to present the Academy Award-winning motion picture "Exodus," airing Sunday, January 20, at 7 p.m. (Pacific Time).
Produced and directed by the legendary Otto Preminger and based on the best-selling novel by Leon Uris, this silver screen classic film tells the dramatic and inspiring story of a group of Jewish Holocaust survivors who defy hardships, dangers, and nearly impossible circumstances to sail to Palestine, paving the way for the fulfillment of Bible prophecy and the re-emergence of the nation of Israel.
The movie features a veritable "Who's Who" of Hollywood stars, including Academy Award winners Paul Newman, Eva Marie Saint, and Hugh Griffith, along with Oscar nominated Sal Mineo (including for "Exodus"), Lee J. Cobb, Peter Lawford, John Derek, and Jill Haworth, to name just a few.
The film itself won an Academy Award in 1960 for composer Ernest Gold's original score that includes the majestic "Exodus" theme, for which TBN regular Pat Boone penned the moving lyrics.
TBN founder and President Dr. Paul Crouch recalled that "Exodus" was highly instrumental in building a ground-swell of support in the U.S. for the young nation of Israel, only twelve years old when the movie was released. "The depiction of this determined group of Jewish pioneers, recently escaped from the horrors of the Nazi death camps and refusing to be denied the heritage God had promised them, was a story that captured the hearts of so many Americans," Dr. Crouch said. "This movie certainly helped lead the way for the support Israel enjoys today among an overwhelming majority of Americans — led by the Charismatic and Evangelical community."
He added that TBN's 40-year commitment to the nation of Israel makes "Exodus" a particularly poignant movie for him. "We are honored to feature a film that highlights so powerfully this nation and people God has chosen as His own."
TBN Vice President Matt Crouch — who has produced such classic big-screen Christian movies as "China Cry," "The Omega Code," "Megiddo," and "One Night With the King," noted that "Exodus" represents TBN's longtime commitment to air movies that both entertain and inspire. "From favorites like the Academy Award winning 'Chariots of Fire,' Billy Graham's beloved 'Hiding Place,' and the classic 'Shoes of the Fisherman,' to modern classics like 'Left Behind,' 'Carman: The Champion,' and 'Facing the Giants,' TBN has made it a priority to bring our viewers the kinds of movies that are both compelling and heart-changing," he said. "It's this type of programming that has consistently made TBN the standard-bearer in Christian broadcasting."