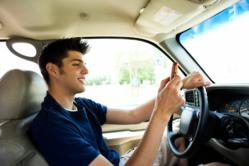 Studies show that any kind of use of cell phones, whether using a blue tooth or holding it to your ear, increases the chance of a car accident
Louisville, Kentucky (PRWEB) January 17, 2013
Personal injury attorney Mike Schafer commented on the new California law that allows drivers to dictate, send, and/or listen to text-based messages and emails, provided they are hands free.
"Studies show that any kind of use of cell phones, whether using a blue tooth or holding it to your ear, increases the chance of a car accident," said Schafer.
According to the California Office of Traffic Safety, the law was designed to clean up a gray area in the previous cell phone law in light of new technology that made hands-free texting more of a reality.
"If studies show that any cell phone use increases your chances of a car accident, isn't California just taking the lesser of two evils in an attempt to placate the masses?" added Schafer.
Recently, the National Highway Traffic Safety Administration released preliminary data showing that road deaths rose nationwide 7.1% in 2012 from 2011 which was the largest year-to-year jump since 1975. Schafer also added since statistics show accidents on the rise, it's worth asking if this is really the best way to make the highways safer.
You can learn more about Mike Schafer and The Schafer Law Office by visiting: [http://www.MikeSchaferLaw.com.