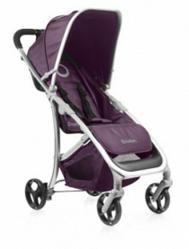 Best Stroller for Strolling Around This Spring and Summer!
West Des Moines, Iowa (PRWEB) January 17, 2013
Bliss Baby & Maternity.com is now offering the new Babyhome Emotion Stroller. The Babyhome Emotion Stroller is one of the hottest new lightweight strollers to hit the retail market. The design is gorgeous, sleek and the frame is modern and clean. The lines of the frame carry all the way to the aluminum rimmed basket. Items are very easy to get in and out of the basket. The stroller comes with a black or a silver frame and the fabric comes in a variety of colors to include red, green, sand, purple, blue, black, and brown. The stroller has a lightweight aluminum frame and weighs in at about 15 pounds. The ride is comfortable and the stroller has a large undercarriage storage. Both the seat and the footrest are adjustable to accommodate a range of heights, and the stroller comes with a mosquito net and rain cover for those times when there is bad weather. There is also a matching foot muff that can be purchased separately.
The Emotion is very stylish with elegant curved lines. A narrow footprint, excellent maneuverability, and easy one handed push make it convenient for navigating the crowds, aisles, and smaller doorways. The wheels stay close to the body of the stroller and are an indicator of how smooth the ride the Emotion will provide. The best part of the Emotion is how flat and upright it stands when folded. By adjusting the front wheels to be perpendicular to the rear wheels, the stroller can be easily stowed in the folded state. When folded, the stroller comes with a backpack travel back to make it the easiest stroller to travel with in the car or on a plane.
While visiting Bliss Baby & Maternity.com for the Babyhome Emotion stroller, look at the other Babyhome products that are being offered such as the high chair, the bouncer, and the side rail for a child's bed. During the inclement weather seasons, it is very convenient to go the http://www.blissbabyandmaternity.com and find all the baby products, furniture, clothing, and gifts that will be needed for the needs in the household or for the upcoming holiday season and to complete the Christmas list in the house for anything baby, maternity, or new mom items.
Be sure to visit http://www.blissbabyandmaternity.com on November 12th, 2012 to take advantage of our one-day sale. Come and shop often!