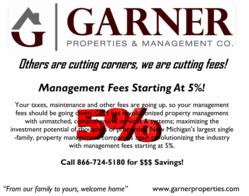 We have no plans of backing down on our level of customer service or professional services offered. Chris Garner, Property Manager
Taylor, MI (PRWEB) January 23, 2013
Garner Properties & Management has announced a new and unprecedented pricing structure with management fees as low as 5%. According to Property Manager, Chris Garner, "Garner Properties has always lead the residential property management industry in portfolio size, customer service, and professional services that we offer to our clients. Now we are stepping ahead of the crowd with unbeatable pricing."
"What's the catch?" might be your first question. "There is no catch," says Garner. "We have no plans of backing down on our level of customer service or professional services offered." The company also plans to keep its pledge to continue to develop ways to increase customer service, improve systems, and reach wider audiences.
"We have done our research and we are even providing our prospective clients with a matrix of our competitor's prices compared to our own to make things easier for clients to see how we stack up," said Garner.
Property owners and investors who are interested in learning more about Garner Properties & Management's services and pricing are invited to contact Mytitia Hulon or Valerie Zimmerman in the Business Development department at 734-287-6619.
Garner Properties & Management LLC is the largest SINGLE FAMILY, and the fastest growing small to mid-size MULTI-FAMILY, property management company in Michigan with over 1400 properties under contract. Garner Properties & Management LLC has been serving Michigan for more than fifty years helping our property management customers reach their goals.
# # #