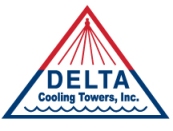 (PRWEB) January 18, 2013
Delta Cooling Towers has extended the longest warranty in the cooling tower industry. The seamless engineered plastic shell and sump now carries a 20-year warranty. The double-walled plastic shell will not peel, rust, chip or ever need additional coatings.
Delta has had a 15-year warranty since 1997 and is very comfortable with this extension based upon 40+ years of High Density Polyethylene cooling tower installations experience.
The most worry-free cooling towers available also feature a 5-year motor warranty, direct-drive fans eliminating maintenance/downtime issues related to belt or gear driven systems, large orifice non-clogging water distribution nozzles, and engineered plastic cooling towers that are impervious to the toughest environments or aggressive water treatment chemicals.
Made in USA, Delta owns and operates fully integrated manufacturing facilities and has specialized proprietary plastic molding processes which allows complete control of all aspects of quality.
For more information, call 1-800-BUY-DELTA or visit http://www.deltacooling.com.