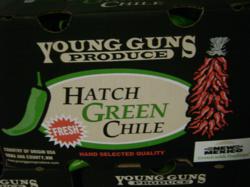 many companies falsely market their chile as Hatch when its origin is another state or even another country
Hatch, NM (PRWEB) January 17, 2013
Chris Franzoy, President of Young Guns Produce, Inc., one of the largest growers of green chile in the Hatch, New Mexico region, wants to make sure consumers can tell the difference between Hatch chile, and chile grown elsewhere in the state.
"Most of the chile grown in New Mexico is excellent chile," says Franzoy, "but Hatch chile has something extra that varieties grown elsewhere just don't have."
Franzoy says it is important these guidelines are made public before the 2013 growing season begins in April, and especially before consumers and stores start placing their orders for the chile harvest, which they will begin doing soon.
To help consumers identify green chile as truly grown in the Hatch, NM region, Young Guns Produce has released the following guidelines:

The country of origin must be the USA
The state of origin must be New Mexico
The county of origin may be either Dona Ana or Luna County, New Mexico
Any chile grown in northern NM counties (such as Valencia or Sandoval) is not Hatch Green Chile
Any chile grown in eastern NM (such as Eddy is not Hatch Green Chile
Ultimately, Franzoy and Young Guns tells people to "get to know your supplier to ensure your Hatch Green Chile is authentic. So many companies falsely market their chile as Hatch when its origin is another state or even another country. Don't be fooled by this. "
Stay away from fresh chile or chile products (salsas, frozen chile, etc) without the proper county or region of origin, even if the label claims the chile is from Hatch, NM.
Why It Matters
The Hatch, New Mexico region, set in the Rio Grande valley and stretching roughly from the area surrounding Hatch to the southern border of the state, is known as the "Chile Capital of the World," and every year thousands of people flock here on a pilgrimage to sample what many claim is the best green chile found on earth.
From a marketing perspective, labeling green chile as "Hatch" chile can definitely affect its sales.
But the issue has received even more attention recently because of the push to identify "New Mexico Chile" as unique. In 2012, the State of New Mexico began enforcing the New Mexico Chile Advertising Act, which requires vendors to prove their fresh chile or chile products contain New Mexico chile if so labeled.
The effort to protect New Mexico chile, one of the biggest cash crops in the state, is important. But Franzoy wants to go further and make sure that the label, "Hatch Green Chile," is as protected as "New Mexico Chile" is.
"There are many varieties of chile, like Sandia, New Mexico 6-4, and Big Jim. All of these we grow, and can be grown anywhere else. But if they're not grown in the Hatch region, then they're not Hatch green chiles."
"We've been growing green chile in Hatch since 1930," says Franzoy, "and we're proud of our tradition and our chile. We'll put our Hatch, New Mexico green chile up against any other green chile raised anywhere else in the state, country or world."
About Young Guns Produce, Inc.
Young Guns Produce, Inc. is located in Hatch, New Mexico (also known as, "The Chile Capital of The World"). The corporation was established in February of 1992. The principal owners are Chris and Tammy Franzoy.
Young Guns Produce began its focus on marketing produce grown in Hatch, New Mexico with the idea of supporting the community and delivering great food to the consumer. Chris has always headed up the sales department, and has been at the desk for over 25 years.
The company has evolved into one of the largest suppliers of onions and fresh Hatch Green Chile, pumpkins, and New Mexico Pinto Beans in the Hatch Valley. The newest addition to our Hatch produce is our Frozen Hatch Green Chile.
For more information go online at http://www.younggunsproduce or call 1-575-267-3001