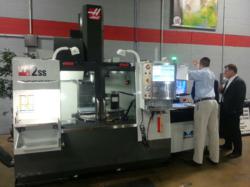 Everyone who attended left with a greater understanding of MultiAxis programming for HAAS.
Clearwater, Florida (PRWEB) January 18, 2013
Last week Al Depoalo, BobCAD-CAM Partner Products Manager, and Alex Cole, BobCAD-CAM Development Application Engineer & Quality Assurance, visited the HAAS Factory Outlet (HFO) in Chicago for training on their new UMC 5 Axis machine and rotary products.
The 2 day event, a sales and technical presentation for HFO sales teams from North America, was held in Elk Grove Village, Illinois, and was open to various vendors in the industry, including work holding, CAD-CAM, digitizing, verification, DNC and more. Depoalo and Cole had the opportunity to demonstrate BobCAD-CAM's new V25 cnc machining software to HAAS's US and Canadian distributors.
In between presentations, the factory outlet had several machines running demonstrations. Some of the demos included a UMC displaying 3 + 2 machining, a HAAS VF3 with a trunnion table showing 5 axis contouring, and a VF2 with a 4th axis indexing exhibiting true 4 axis cutting.
"HAAS did an excellent job going over the UMC - 750 and the options it offers," stated Depoalo.
The DWO (dynamic work offset) TCPC (tool center point control) as standard options for the UWC with WIPS will give HAAS customers a significant advantage over other machine tool builders. These functions allow for easy setup and part programming, giving users the flexibility to use a standard work offset zero in their CAM Software, and allow the control to compensate for shifts in the actual zero of the part or variance in material.
"I am extremely impressed with the detail of information provided and feel everyone who attended left with a greater understanding of MultiAxis programming for HAAS," Depoalo commented.
BobCAD-CAM is happy to announce that V25 MultiAxis supports the new features that HAAS has implemented. For the Controls that do not support DWO OR TCPC, BobCAD has its own version that comes standard with V25 MultiAxis that supports these same concepts.
For more information on BobCAD-CAM's V25 MultiAxis software, please contact them directly at 877-262-2231 today or download a trial version of V25 at http://www.bobcad.com.