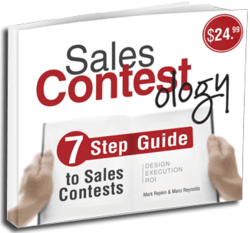 This eBook not only provides a detailed roadmap to Sales Contests, it's easy-to-read, and conforms to every best technique I have seen
Oak Brook, IL (PRWEB) January 17, 2013
Most Sales Contests are currently designed to have a small number of winners, while the rest of the team will be losers.
When employees see the rules for a new contest, they can instantly tell who will most likely win and lose. The winners will be the same few who always win, and everyone else will lose. Programs like this may actually reduce a team's morale, and not have any impact on overall sales performance.
In order for companies to really make a positive impact on sales performance, a sales contest must motivate the middle 80% of the team. The top 10% will always be on fire, and the bottom 10% are always going to be there for many reasons, such as being new, in training, etc.
However, the middle segment of a sales team can make a huge difference if they can be motivated to do a little better than they typically have done. This new resource tells you how to design a program to do exactly that.
A successful contest motivates each person on the team to improve their own performance and productivity - and will help the organization meet and even exceed its sales targets.
This resource answers the question of "How do I get my entire Sales Team engaged, and give everyone a chance to win". In detailed steps, it describes how to create contest rules differently, to create risk-free, win-win type programs.
Everything a manager needs to become a Sales Contest expert is covered, including: strategy, planning, duration, implementation, and even the Awards you should use.
Greg Kern, Exec. VP of Select-Your-Gift said, "This eBook not only provides a detailed roadmap to Sales Contests, it is easy-to-read, and conforms to every best technique I have seen."
For companies ready to see what an effective sales contests can do, they should get this new 60-page eBook.
To get this free resource, visit http://www.Select-Your-Gift.com/Sales-Contests.htm
About Select-Your-Gift, Inc:
Select-Your-Gift, Inc. is a leading incentives and rewards company, specializing in employee recognition. The company helps businesses of all sizes recognize their employees, and features high quality gift album Award Presentation Packets, at discount prices. For programs giving incremental recognition awards in the form of points, they also offer Online Point-Banking solutions to keep employees motivated as they work for and accumulate points for larger awards.