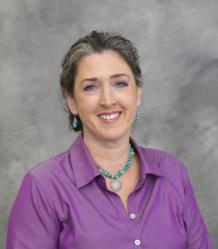 I'm honored and proud to join the AQS family
Paducah, KY (PRWEB) January 22, 2013
The American Quilter's Society is happy to announce Michele Duffy is the new editor-in-chief of American Quilter magazine, the flagship magazine of the AQS. Ms. Duffy will assume editorial duties as Christine Brown retires. Ms. Duffy is already actively involved in the editorial direction for the May issue of American Quilter.
Michele is an accomplished journalist with a solid background in editing, education, and quilting. She brings a warm and unassuming nature along with a vigorous editorial background. Ms. Duffy's keen eye for design and expertise in hands-on instruction will ensure American Quilter continues to provide quilters with the inspiration and techniques they have admired for 29 years.
AQS Founder and President, Meredith Schroeder, says, "We're excited to have found someone with the combined quilt knowledge, communication skills, and leadership strength quilters have come to expect from AQS."
Michele has been quilting for over 20 years and is a proud member of two quilt guilds. Now relocating from Sycamore, IL, to Quilt City USA®, she will enjoy quilting in the center of the quilting world. Ms. Duffy has earned an M.A. in English Education and has spent the past decade instructing at the university level.
Ms. Duffy notes, "Quilting and other textile art forms are in the midst of a vast revival period, so I am thrilled to be able to move seamlessly into the position of editor-in-chief." She adds, "AQS is an incredibly devoted and collaboration-driven group of professionals. I'm honored and proud to join the AQS family."
As the American Quilter's Society continues to grow and expand its Market, Michele will be an integral part of the staff. AQS Chief Operating Officer, Richard Louise, states, "AQS is leading the quilting industry during an exciting time of rapid growth and development. Michele's appointment to lead the magazine is one of several organizational changes keeping AQS poised to lead the industry through inspiration."
---------------------------------------------------------
The American Quilter's Society is the largest quilting membership organization in the world. For almost 30 years, AQS has been the leading voice in quilting inspiration and advice. Through a broad suite of products—magazines, books, live events, contests, workshops, online networks, patterns, fabric, and catalogs. At AQS, we believe that with inspiration and advice, the creatively minded can take their quilting projects beyond what even they had imagined. That is why inspiration is central to everything we do. The leading authors in quilting choose to publish with AQS; the best in quilt artistry select AQS events to display their work; the newest quilters learn from the knowledge and inspiration of AQS members.